I know, I know… by now there is visible COVID fatigue.
I get that
This new normal is not really all things fun and getting used to it takes time. One of the things that changed in Post-Covid era is the way we celebrate birthday parties.
Just taking a detour here from the main topic at hand; I find it interesting that while adults went from self- adulation to procrastination to cribbing about the 'new normal' and the various changes that it brought about, children to a large extent adapted beautifully!
Much better than adults of-course!
I can say this with confidence because I have seen my kids and their friends. They have spent months starting from March to now in lockdown with very less pampering and spoon-feeding. They lost their cherished summer vacation to the pandemic. They lost their time in school as most schools moved online, they missed bonding with friends as the lockdown was in force and now it was their birthdays!
If you are looking for some educational resources to keep children busy in lockdown, you might like the post Educational Resources for children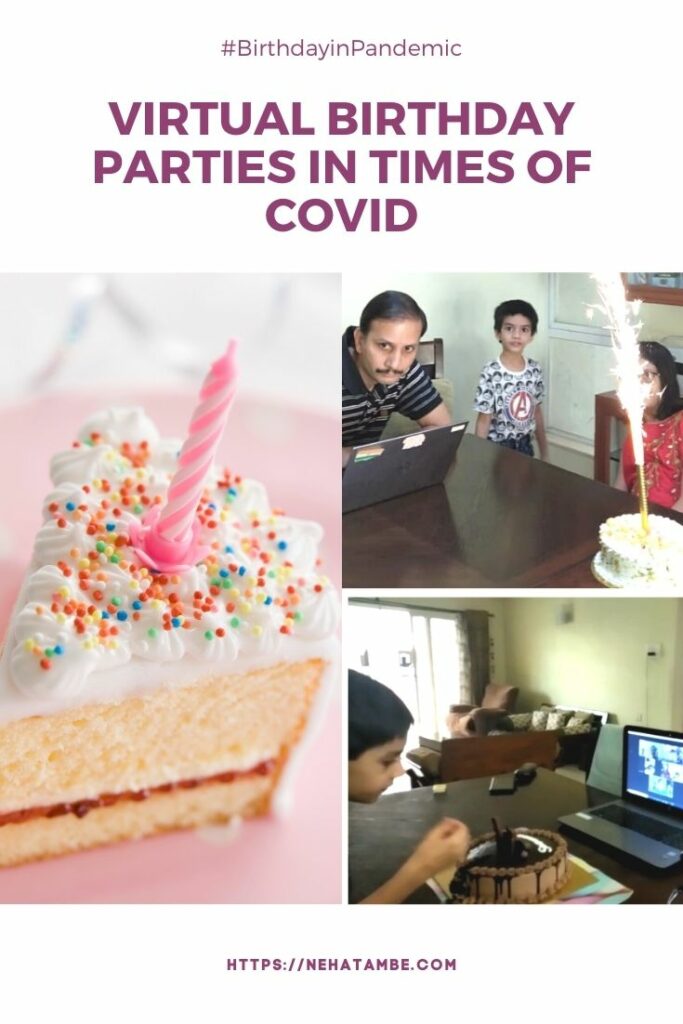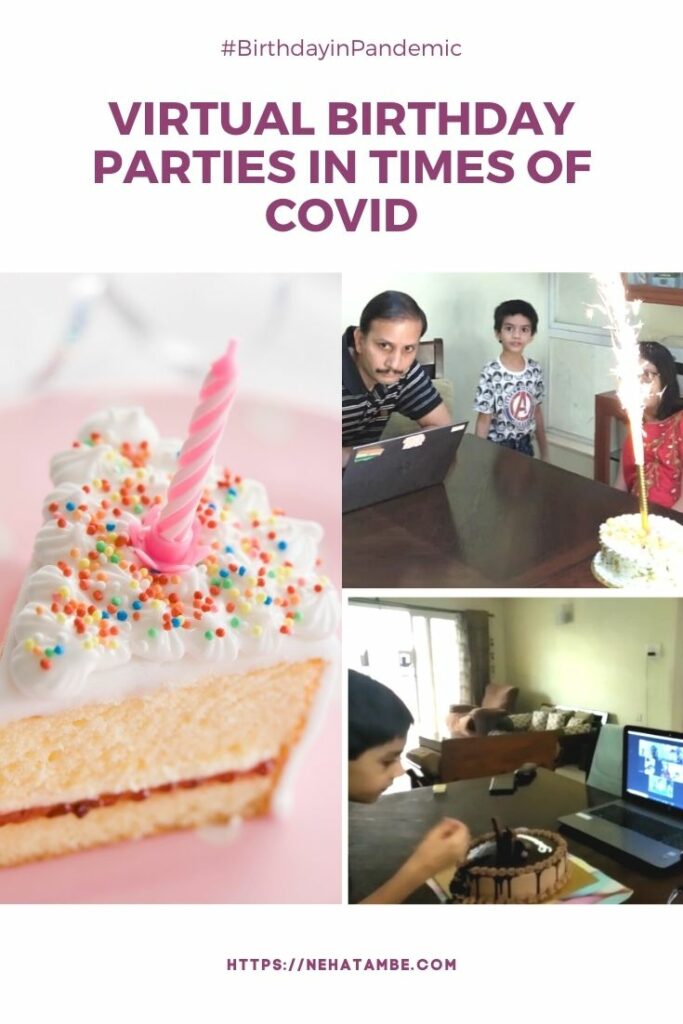 July is a birthday month in my house. Both kids have their birthday's in this month and they are super excited about it. While we never had huge birthday bashes, but calling their friends over for some games and cake was a standard practice. This time they weren't going to get that as well, as the Covid cases continued to rise.
I truly felt bad that they couldn't get a decent party and decided to do something about it. As this was the first time, I learned from the mistakes that I did in my daughter's birthday and improved on it for my son. Here are a few tips from both the virtual parties that we had and I hope you will find it useful for your kid's birthday's
5 Virtual birthday party tips in times of COVID
Schedule zoom calls with small groups
This is something I learned the first time around. With my older daughter's birthday party, we invited everyone to the same call and though there were only around 15 people there was too much happening on the screen for us to focus on anything. We couldn't really talk to everyone, nor could we manage the approvals and timings well.
The second time around we managed to have two zoom calls – one for the family and another one for the friends. This helped manage the system and have meaningful conversations with all.
2. A birthday video with some pictures
The man of the house had this bright idea and it was hugely popular. He made one each for the kids and it included all the fun moments that we had while the child was growing up. This was played before the cake cutting and hence as people joined the meeting they weren't just waiting for something to happen. It was also a great conversation starter in some cases.
3. Order gifts beforehand
Both the children's grandparents had wired the money beforehand to buy them gifts that they would love. This helped us order gifts online and keep it ready beforehand. We gave the gifts during the family virtual call and that helped all feel like they were present at the event. The happiness when kids got what they were looking for just added to the magic.
4. A handmade or virtual background
This is something I saw being done by a friend. I loved it and we implemented it as well. We downloaded some good virtual backgrounds. There are a few available on Canva as well, you can check that out. Another friend actually made a big background with her son's favorites. It was a lovely idea as well.
5. Virtual Games time
When the kids friends connected on the birthday party, after the cake cutting, we played some virtual games. Children played games like Simon says,  virtual Pictionary and charades. To avoid wasting time thinking about the words to be used, we shared Virtual Pictionary word suggestion and virtual charades as well. That helped them play the game and have fun without thinking too much about the words they were going to come up with.
These ideas helped us make our children's birthday parties special even in times of COVID. Thanks to technology, this lockdown and the post COVID 'new normal' have been bearable. I dread to think what it would have been, had this been say 15 years ago!
Hope you find these tips helpful. If you have had some fun ideas for your children's birthday do share that in comments so that we can exchange notes and help children have a wonderful virtual birthday party, even in times of COVID