Studying abroad might be a difficult decision during the pandemic but keeping your study plans on hold for a year means you lose out as well. The Indian parents that I've interact with are hesitant about sending their children away and that is understandable. What stops you though from finding out all options available and then deciding when the time is right for you to follow through with it?
Studying abroad gives an added edge to a student's resume. Students today understand that very well and aim for a degree from a foreign university. While I do understand the parent's point of view, I do believe that studying abroad gives many advantages. Becoming more self-reliant and learning a new culture while getting a global education does open up many career opportunities whether you work abroad or come back to India.
I remember when I had finished college, I was very enthusiastic about doing a master's abroad but I did not know how to go about it. The money required was a deal-breaker for me. My ambitions took a hard blow from reality.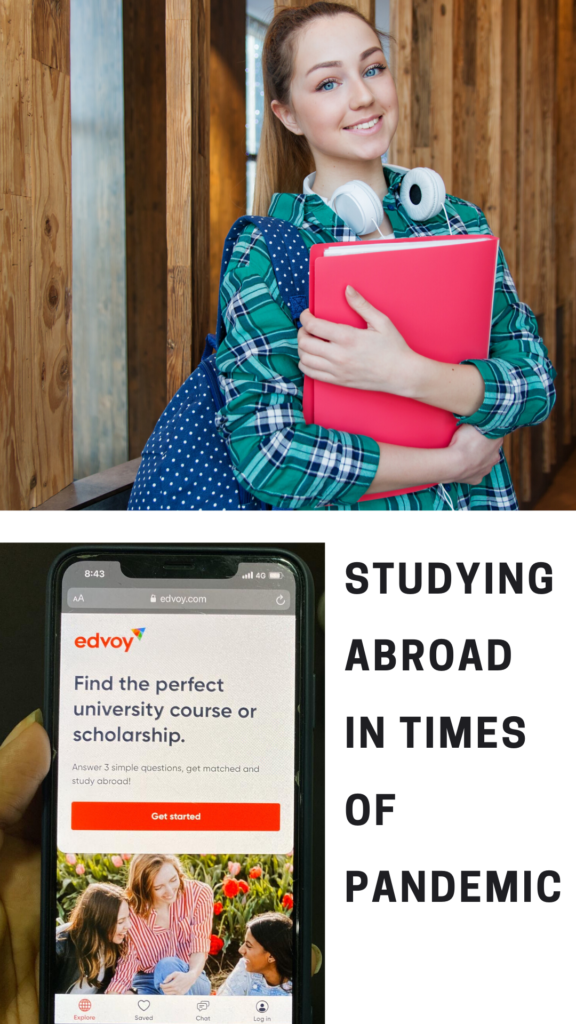 That was then, fast forward to now. It is a different universe today. I was speaking to one of my young friends, Anisha, and she told me that studying abroad is so simple now because everything can be done online. In her research, she came across a CNBC webinar about studying in the UK and one of the panelists was Sadiq Basha (I think he was the CEO or something similar) from the study abroad platform Edvoy. Anisha, decided to try it, went to the website and was matched with courses in universities abroad. It was that simple. She shortlisted the ones she was interested in and got into a virtual chat with the advisors about budgets and her eligibility for the universities she was interested in. She had a few backlogs and was not sure how it would affect her.
A tip for others planning to study abroad, do your research and always cross check what options the advisors tell you about. Research helps you to ask the right questions so that you have all the information to help you make the right decision.
By the way, Anisha got an offer from The University of Bedfordshire and she is all set to start in September 2020. From searching for a course on Edvoy to applying to universities and uploading her documents, she did it all online on the site. From start to finish it took her 3 weeks as she wanted to hurry up since she decided in June to apply for the September semester.
The benefit of having an offer is that you could defer your joining to January 2021 as well. Having the offer is all-important. Of course, the UK home office also announced (as Anisha told me) that graduate work visa eligibility is not affected even if you start your course with blended learning, as long as you are on campus by April 2021.
This was an interesting interaction for me as I learnt a lot about admissions to foreign universities in the current pandemic. Listening to the news about various visa norms and the pandemic situations I was worried that the students would be missing out on opportunities, but a chat with Anisha clarified a lot of things for me. Did you know that on 6th July, UK Visa application centres in India have opened for visa processing?
Have any of you applied to a foreign university in the current situation? How was your experience about it?