In India, every year, over 10 Lakh students appear for what is among the toughest to crack national level exams, NEET. Now, considering MBBS is one of the most sought after professions, these students' competition is nothing short of cutthroat. Here are some stats to put things into perspective:
Even though the number of aspirants is in the tens of lakhs, the number of seats available is nowhere near the same amount- it's in thousands. Currently, there are only about 85-89 thousand seats available, private and government colleges combined.
There is a significant difference between the government and private college fee structure. The range for private med schools is around 30 to 70 Lakhs whereas it is 20000 to 8 Lakhs for the government ones.
So more often than not, even after you do end up clearing the test, all of these conditions translate to hardships, extreme competition, sky-high cutoffs, unaffordable fees and poor learning experience due to the extremely high student-teacher ratio.
A viable solution to all of these problems is an mbbs in the USA after 12th. However, the idea is usually met with many apprehensions, and we have found it is due to a lack of information.
If you're among the young aspirants who are sceptical of applying to med schools abroad, here are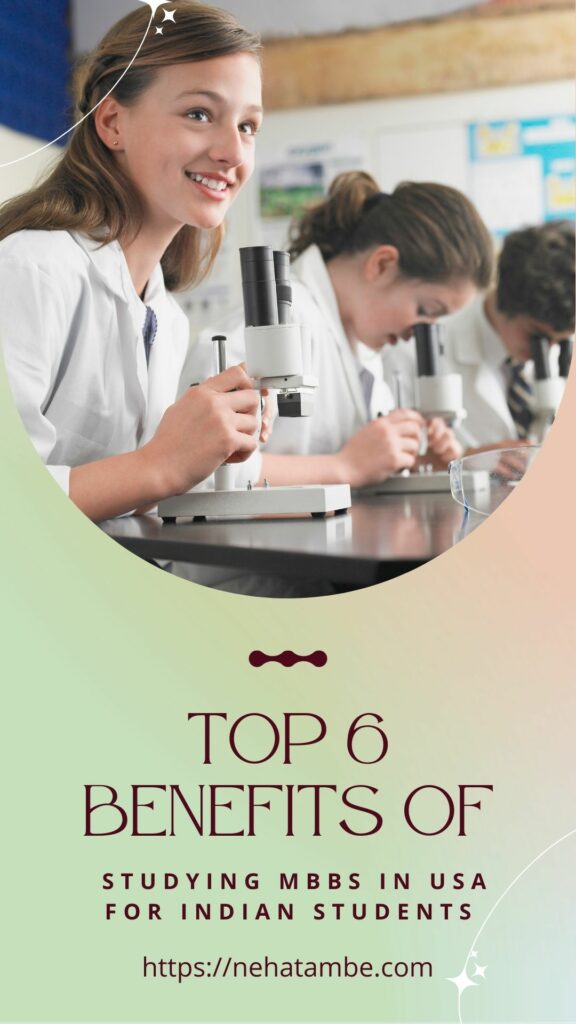 7 benefits of mbbs in USA after 12th for Indian students:
Lower Fees
Unlike the private institutions in India, medical schools in foreign countries like America do not charge humongous donations and capitation fees. This makes the overall costs considerably low. The fees are within the range of 25 to 50 Lakhs.
Easy admissions
Getting a seat in a college abroad is comparatively more accessible as there are no separate entrance exams and the eligibility criteria are simple and much more achievable. Candidates should have passed their 12th with 50% aggregate with Physics, Chemistry and Biology as their subjects, and the NEET cutoffs are lower, too- 40th to 50th percentile for General category.
Scholarships
In India, just like the competition for a seat in a good medical college is high, the competition for acquiring a scholarship too is high. Whereas, in med schools abroad, if your rank is higher than the cutoff and if you belong to a lower economic section, there are excellent chances that you will manage to bag one or atleast get financial aid.
Quality learning
Another reason for pursuing mbbs in USA after 12th for Indian students is the infinitely better education infrastructure, better curriculum and the fact that significant emphasis is laid on gaining more practical knowledge through a year of mandatory internships.
Better and more job Opportunities
An mbbs degree from USA is recognized by the Medical Council of India, which means young professionals will be able to practice in India after giving the MCI exam. And they can also choose to start a private practice in the USA.
Lesser competition
One of the most significant benefits of mbbs in USA after 12th for Indian students is the availability of adequate seats. This boosts students' morale, making for a better learning experience and better training.
Make sure to consider these benefits before dismissing the prospect of studying medicine abroad. And once you do decide to go for it, choose your college wisely and only after thorough research!