Wet Wipes is something that every parent has in his/her bag. When they are babies we parents need it for daily cleaning while as they grow older we need wipes to ensure they keep their face and hands clean when outside. Though wipes offer simple and quick cleaning solutions, they also come with their share of problems. Wet Wipes contain alcohol and chemicals for cleaning which might harm a baby's skin. Many wipes have strong scents which can be irritating to the small sensitive nose. I recently came across Mother Sparsh premium 99% Water based Baby Wipes that are #UnscentedWaterWipes and I thought about reviewing it.
I have been using these wipes for more than 2 weeks and I am very happy with it. The top few reasons why I like Mother Sparsh wipes are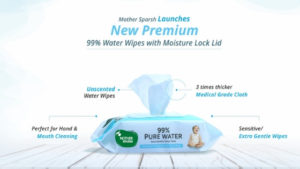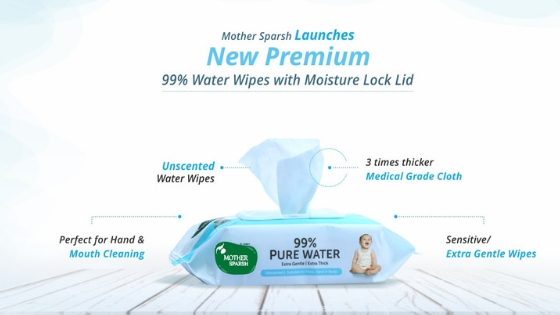 Unscented Wipes
These wipes are unscented. The wipes that we normally get have strong scents and my kid hates them. He refuses to use a wipe to clean his face even when we are traveling and there is no water nearby. These unscented wipes are his favorite. When I gave him the wipe he used it on his own to clean his face and he practically couldn't get enough of it!
Medical Grade, 3 times thicker Fabric/Cloth
The wipe is strong and is as thick as a soft cloth! It is definitely thicker and is made of plant derived Medical grade fabric. This helps in giving a good clean-up. To test the strength of the cloth I pulled at it really hard and compared it with other normal wipes. While the other wipes disintegrated in their hold Mother Sparsh Water wipes were strong with no visible tear. Thick wipes also help in better hold and better clean up – be it hands, face or poop.

99% Unscented Water Wipes
The best thing about Mother Sparsh wipes is that they are 99% pure water. It is just like having a wet hand towel around whenever you need it. 99% pure water means no more worries about the chemicals and their reaction on baby's soft skin. My tween has a really sensitive skin. With these wipes, I don't have to worry about her skin. Right from cleaning her face when outside to the occasional make-up cleanse is now not a worry for me.

Moisture Lock Lid
The wipes pack comes with a plastic lid that secures and locks the moisture inside. A typical wipes pack has a peel off sheet which can easily come off when kept in a handbag with millions of other things. An exposed wet wipe quickly loses its water content and all we are left with is a papery dry napkin. With this strong lid, I don't have to worry about being stuck with dry wipes on a long trip!

100% Biodegradable Wipes
These wipes are not only good for our children but also safe for the environment. Being completely bio degradable means I am free from the guilt of harming the environment every time I bin a wipe! The cloth used is made from plant hence it does not include harmful toxics.
The other benefit that I found with Mother Sparsh wipes is that they are not too cold and tingly like other wipes. This has made these wipes my kids favourite. I also kept the wipe outside to test its moisture retention when exposed. Even after being out of the pack for around 3 hours the wipe was moist and perfectly fine for use.
#SensitiveWipes
Apart from my understanding of the wipes, I also spoke to a Neonatologist to understand the importance of wipes for neonates or babies. He said "As new born babies are usually not given a bath for around a week, we use wet wipes to clean them. It is important to maintain hygiene and cleanliness in neonates as the babies are too tiny and ill when admitted to the NIUC. During such times we prefer unscented baby wipes as they are gentle on babies skin."
How is Mother Sparsh Premium 99% Water wipes different from 98% water wipes by the same brand which I reviewed recently?
My thoughts
If doctors too prefer a non-scented, thick wipe that is gentle and as pure as water. As parents, it is wonderful if we continue using wipes with similar characteristics. Mother Sparsh wet wipes seem to offer cleanliness without the side effects!