All those who know me, know that I hate the melodrama, never-ending series and done to death topics like saas-bahu, scheming neighbors and relatives, etc. I truly believe that tele-series should try and bring refreshing content to its viewers. Something that will make them laugh, live, ponder and even opinionate. So, when this whole new wave of web-series and online content came along, I was one of the first movers to check them out. While not all were wonderful – some of the series were plain boring or just terribly executed. Some thought just adding sex would make it popular; however, there were a few that truly worked on content, its presentation and the way it connected with the audience.
Here are a few series that I have personally enjoyed over a period of time. This is a mix of English, Hindi, and Marathi
Marvelous Mrs. Maisel
This is one of my favorite web series. An Amazon original, this is a story of a woman comedian. Mariam 'Midge' Maisel is an upper middle class Jewish American housewife. She is living a dream life with a husband of four years, two lovely kids and a great life of sophistication. Her husband works at a plastic company and moonlights as a comedian in a café called The Gaslight Café. Midge like a dutiful wife helps Joel her husband take notes, find a better slot and better his performance, however, her world comes crashing down when she finds out that Joel was cheating on her with his receptionist.
That brings out the comedian in Midge. She performs at the Gaslight Café in a drunken state and that performance is a hit. It makes Midge take comedy seriously and that is the premise of this series. Set in the 1950's this series deals with a few societal issues like – divorce was looked down, keeping the husband in control was a thing, extreme care and importance was given on looking beautiful ( another way to keep husbands from straying),women comedian was a taboo or something that didn't sell etc. The first two seasons have been fantastic and I am waiting for its season 3
Modern Love
This is a beautiful series of short stories on Love! We see and end up believing in a small spectrum of Love but with these short stories, we see a variety of shades of love. The love between lovers, caretakers, mature love and a lot more. These are short love stories in a big city and it is so relatable that one cannot avoid and not fall in love with the series.
A co-production between Amazon Studios and the New York Times, this series explores the complicated and various forms of human connections and the kind of love that develops from it. This was inspired by the newspaper's popular column by the same name.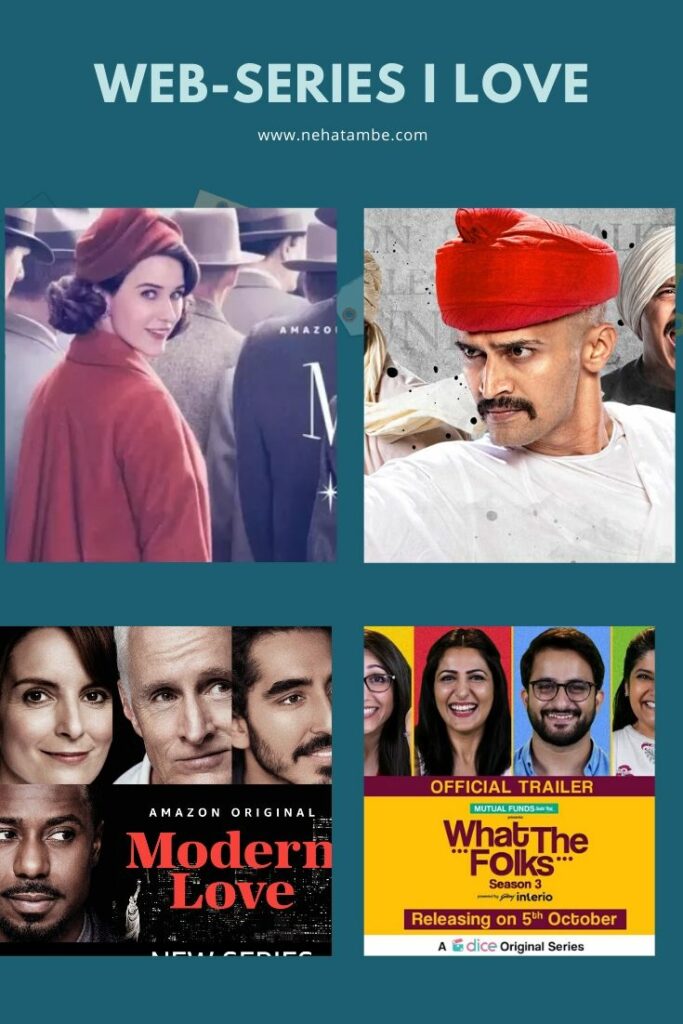 What the Folks
This one is available on YouTube and is a great family entertainer. It follows the life of a middle-class urban family and their world views. It is absolutely relatable and all the actors have done a fabulous job. Renuka Shahane as a very practical non-stereotypical 'saas' is a revelation.
Produced by Dice Media What the Folks has completed three seasons and I have absolutely loved each one of them. At the center of these family, stories are Nikhil and Anita. We meet Anita's family and Nikhil's relationship with them in Season 1. We see Nikhil's family and their dynamics with each other in Season 2 and Season 3 focuses on both the family's views around the omnipresent question of 'When are you starting a family?'
The Better Half
This is another hugely popular web-series on YouTube. This one is produced by Shitty Ideas Trending (SIT) I know.. but that's the name! But thank god their ideas are not shitty at all. I have loved a variety of series that they have produced. They pick the usual problems that urban couples face and have made small web-series around it. There is 'Maid in Heaven' which revolves around maids and 'The Better Half' talks about the husband-wife relationship without being preachy. At times it gets a bit clichéd but it is super fun. I so love the 'maid' in this series! She is a fab actress.
Gondya Ala Re
Gondya Ala Re was a series based on one of the first armed revolutionaries from India 'Chapekar Brothers'. Chapekar Brothers- Damodar, Bal Krishna, and Vasudev revolted against the atrocities done by Britisher's during the Pune plague and killed the British Plague Commissioner of Pune, W C Rand in 1897. Such stories are not easily available and hence when it was announced I wanted to show it to my kids, but the above 18+ categorization made it impossible to share with children. While the overall plot, performance, and research is very good, it is something that needs to be watched in one go, otherwise, you might miss the flow. The editing and the constant back and forth makes it tough to follow at times.
With web-series, there is a lot of good content that is being created and it is a great time to explore some interesting genres and enjoy some great work in terms of performances and film making!