Sudha banged the phone down, as she heard for the nth time that Amit, her husband was going to be late in office. As she was seething with anger and frustration, she heard a soft humming from the kitchen. She looked up to realize it was her house-help Alka.
Alka was a slim woman, who had started working at Sudha's place recently. Sudha had liked her instantly. She was quick to understand the requirements of Sudha and worked with complete dedication. She put thought in the work and planned her work in such a way that she was not intrusive in Sudha's routine. Alka was not much of a talker, so Sudha knew very little about her. She had answered all of Sudha's questions, but never been over enthusiastic about supplying information.
Sudha, was now getting a headache. She snapped at Alka and went into her room. As she paced up and down the room, there was a soft knock on the door and Alka peeped in. She had a steaming cup of tea in her hand. Sudha was surprised, as this was not part of Alka's chores. Alka said " I am sorry if my humming disturbed you. I didn't realize it. Have some ginger tea, it will help you with easing the headache. Sudha quietly took the tea and felt herself calming down as she drank the tea. She realized she wasn't angry with Alka. She wasn't angry with Amit either. She was frustrated and angry at her situation.
Sudha had a good job, great friends and a good social life, but when Amit decided to change his job, they had to move to Chennai. Sudha hadn't taken up a job immediately as she wanted her daughter to settle in first. But overall this change had overwhelmed her. New place, new language, new culture meant a lot of adjustments. Also they had no family or friends here, so she had no social life. Amit was enjoying his work but it was a hectic schedule and that left him with little time for Sudha or their child. Sudha yearned for some adult conversation. She felt trapped and was getting increasingly frustrated. As things started to clear up, Sudha felt bad about snapping at Alka.
Sudha, had a lot of time on hand, with Amit coming late and their daughter off at a birthday . party. She didn't know what to do. She went into the kitchen to keep the tea-cup and tried to make amends. "I am sorry Alka, I shouldn't have snapped at you. It wasn't you that I was upset with. And thank you for the tea. It was really helpful. It feels nice when someone does something for you." Alka smiled her brightest and nodded "It happens Madamji, I know it can be frustrating when you feel you are not appreciated enough." Sudha was stunned by this talk from Alka. She wasn't expecting an illiterate woman to understand her situation.
"Do you have some time to talk? I really wish to talk to someone or maybe just listen." Sudha asked "Yes sure Madamji, my kids don't come from school for another hour so I have time." "What's your story Alka? I have seen you smiling and working hard, but it must be very tough for you. "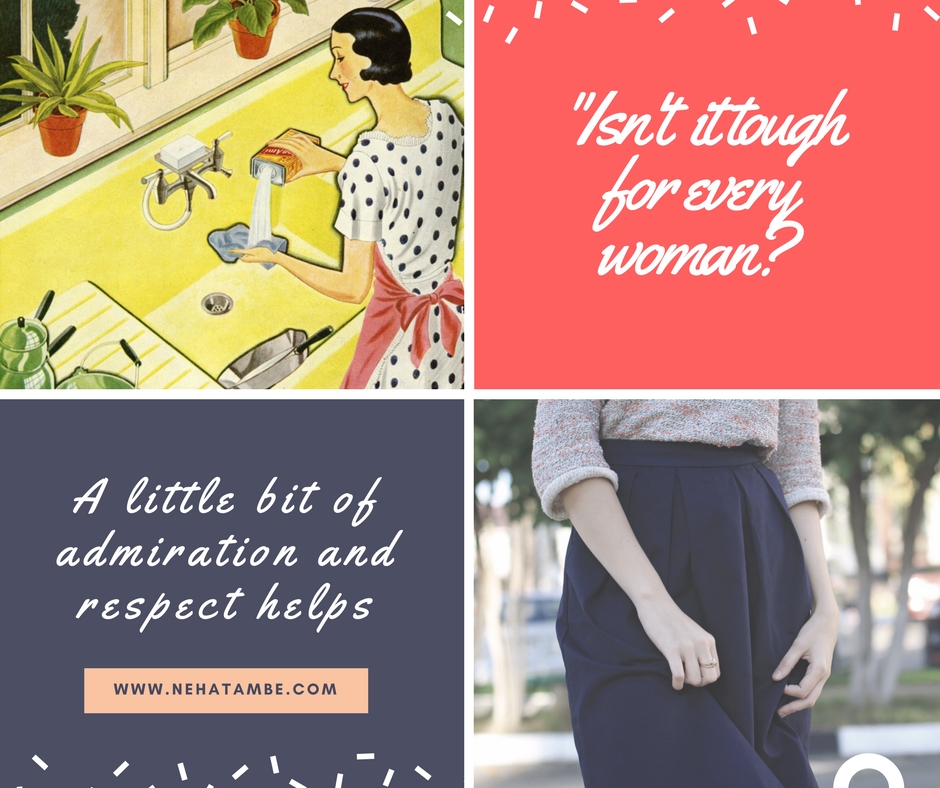 Alka smiled." Madamji, isn't it tough for everyone? I come from a small village near the Karnataka border. The continuing drought situation in our village, forced us to migrate in search of work. It was mass migration and except for the old, everyone left the village looking for work. We landed up here near your society around a year back. My husband worked odd jobs at the construction site nearby and I decided to work in the homes as I knew a bit of Tamil, but when we started working here, we realized all the people living here too have come from different places and the dominant language of communication was either Hindi or English.
I didn't know Hindi at all! I hadn't even heard it, but it was a necessity and I learnt on the job. Some people were kind enough to teach, some were indifferent, but I didn't lose hope. I knew in my heart that all this hardship is temporary. Some people spoke very harshly, if I didn't understand what they expected, while some explained the right way to do it. The more houses I worked, the more variety of experiences I got.
I am working hard so that my children can go to school and study well. I don't expect them to be toppers or do something great in life. But I certainly hope to give them a better future. After coming here,the daily hardships, were too much. I was frustrated with the new surroundings, too many adjustments and not exactly a good lifestyle as compared to our village. I wanted to give up and go back home, but I didn't want to look back in life and realize that I hadn't put in my best to secure my children's future and my financial independence.
Sudha had a newfound admiration for Alka. She asked her, "What all did you learn after coming here? "Alka smiled and said, " I learnt a new language, new ways to cook and clean, handle money, and travel alone." "Madamji, when you look at the bright side and firmly decide to look only at that side, then the difficulties that come in the way become bearable."
That day, as Alka left Sudha's house, she was also leaving Sudha with a new found wisdom about life. As Sudha saw Alka walk away, her eyes held admiration for Alka.