As we step into 2021, most of us realize that the new normal is here to stay for some time now. If you are a small business then it is time to revisit the marketing strategy – if you haven't already, and focus on the low hanging fruits like content marketing; to get organic reach and more leads into the funnel.
Content marketing is something that most businesses do knowingly or unknowingly, however in the past few years it had dropped off the radar of marketers for a faster and quicker paid marketing solution, but 2020 saw some major upheaval in these aspects. As the budgets were cut, it became important to look for organic ways to capture the attention of the audience.
Content Marketing Trends for 2021 and what small businesses can learn from it
Let us see each of it in detail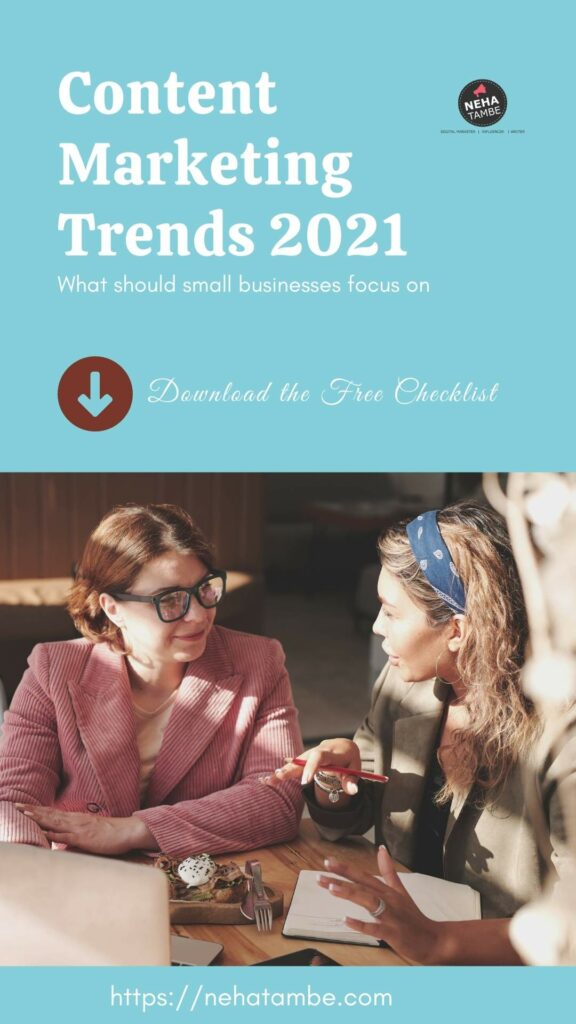 Leveraging community content to encourage connections and organic reach
Community content and learning will continue to be a popular content marketing trend in 2021. Marketers can find important insights and small businesses can engage the audience in a meaningful way with the community approach. Another advantage is leveraging this community to create UGC (user-generated content). The community can create content and work as collaborators for your brand. Don't mistake this for influencer marketing. While influencer marketing too taps into the influencer's community, it is off late focused on a number of followers, likes, engagement etc.
In a community, the conversations are naturally around a common goal or topic. Tapping into this collective wisdom is much more laser-focused. Businesses that have invested in building engaged communities will benefit in terms of brand awareness, audience loyalty and greater participation in the feedback loop.
Conversations will be at the heart of marketing
Consumers today do not want to be talked to. They want it to be a conversation – a two way communication. Another fact is that a user is coming to your site in search of answers – they do not have the patience to search for it or go on a wild goose chase while you ask them to click the next tab or search in FAQ's etc. This brings us to conversational marketing. Small businesses can provide personalized content and more sophisticated ways of communication. As our behavior and buying habits changed in the past year, so have our expectations from the brands. A consumer is not happy with just a website or a phone number to contact.
Deliver personalized content versus a blast of emails. Integrate chatbots that can help resolve 50% of the queries while capturing information that can be used later to respond to the consumer's queries, creating personalized deals or even providing a sneak peek into the latest offering. Building conversations with the consumers by having social media chats, community forums and even surveys. This will also help improve brand loyalty and referrals – a necessary stream for small businesses.
Learning and co-creating will reinvent virtual events
If we have learnt anything from the 2020 zoom meetings and webinar marathons, it is that learning and co-creating is here to stay. Even as people and companies find ways to get back to offices and be productive in the new normal, learning online and participating and interacting in webinars or other platforms for value creation for the customer is here to stay.
Small businesses should focus on imparting learnings that will help their consumers use the product/ service better or stay productive using products and services from an allied field or business.
Co-creating content for the end-user – be it with allied businesses or industry experts is a great way to establish your brand and reach a relevant audience quickly. This is a great way to reach a larger 'in-market' audience with lower costs for marketing.
Video content marketing is on the rise
If you haven't looked at video creation as a serious marketing option till date, it is time to rethink. Video content consumption is on the rise and it will continue to grow in 2021 as well. This is a great time for small businesses to explore a variety of possibilities and create share-worthy video content. Think repurposing blog content, interviews, webinar excerpts, Tips for Wednesday Wisdom – you get the drift?
Video's that communicate value without being promotional are meant to have a greater possibility of sharing. Video in marketing is a powerful content marketing trend that continues to grow since 2018. If the focus of the content is consumer and their needs, then the audience will keep coming back and share your message as an authority voice in the industry.
Greater integration with tech like AI and ML in marketing
The words AI (artificial intelligence) and ML (machine learning) might have been fancy jargons till about 2019 but come 2021, these tech abilities will be your ally as you market your business to prospects. CRM tools and marketing hub's built with AI's predictive tools will help you identify leads that have a greater probability to convert, suggest personalized messages in your marketing automation sequence and respond smarter with Chatbots. AI-based content creation tools can help you create content faster and at scale.
Accelerated diversification in search tools – voice, image and more
Online marketers were getting to terms with creating content for a 'mobile-first' world, but now with the rise in voice and image searches the marketers need to be up to speed in terms of creating content for voice searches and image.
People spent more time online and voice assistants saw a greater usage as well. There will be 4.2 billion digital voice assistants in use around the world by 2020 and this trend continues to grow as homes get smarter and people combat screen fatigue.
Another aspect that needs to be considered is the impact of advertising in native languages. 2020 pushed a whole new segment of audience online. With voice assistants built-in phones, there was no hesitation when it came to searching in native or conversational long-tail keywords.
These were a few content marketing trends that I believe will be in focus in 2021 and push brands to success. The businesses will pivot towards creating more personalized content for the consumer than for the search engines. My advice to any business would be "Keep the customer as your focus and pivot towards creating more content that will engage them and lead them further into the buying cycle without burning you out."
Need help in creating a content marketing plan for your brand? Fill in your details, and I will get back to you. I can help you in creating websites, content for your digital assets, running paid campaigns and more.