My theme is seven and the series is seven situations unique to a mother of two
The second situation is both the children feel they are ignored or not loved enough
---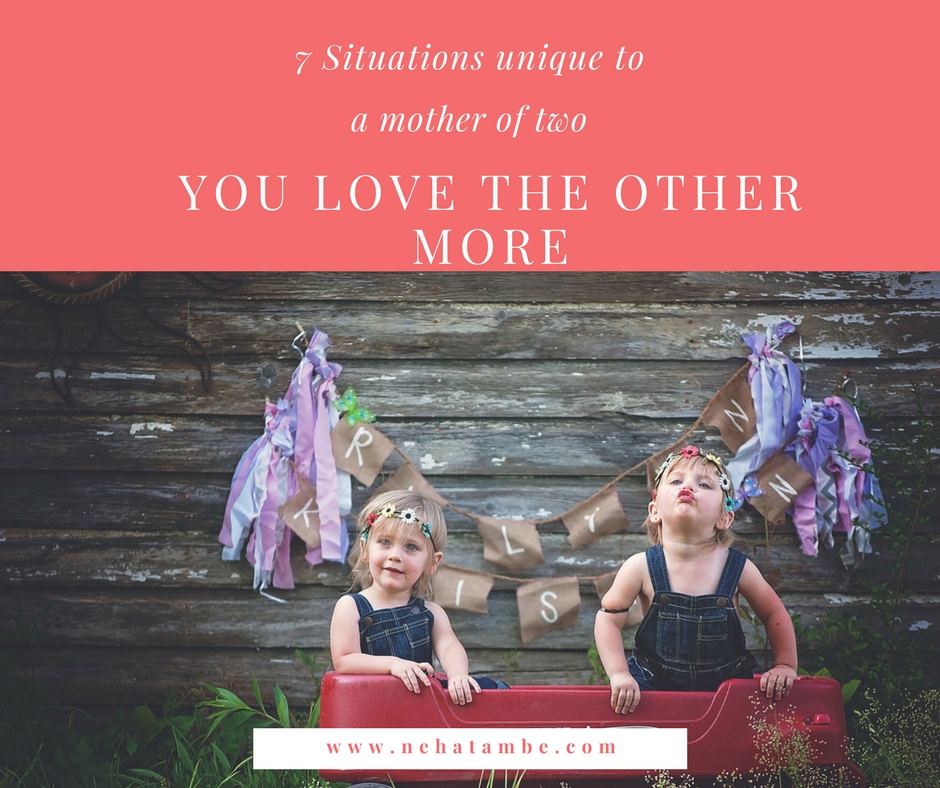 If you are a mom of two, you have had this conversation quite a few times. Whatever the age gap both the children believe that they are ignored and how much ever you try convincing them otherwise, it will have no effect. You will just keep going round in circles with no results.
You Don't Love Me Enough
This is the first allegation that you will counter once the new baby arrives. The first kid will feel left out, especially with the new baby's feed – sleep cycle the older child will feel 'mumma' spends the most time with the baby and dad goes to work, so nobody cares for them. My kid had high expectations when the second one arrived. She assumed that we will take the baby to play area from day one and she could 'play' (read running and hide-n-seek with the baby) So, you can imagine her disappointment when she realized that all the baby did was eat – sleep- cry- repeat. Not even the cute smiles that television ads show-off! She even suggested that as the baby wasn't doing much and was kinda boring we should think of returning him! As if babies come with a 30-day return policy!
Initially, I felt maybe I was doing something wrong and was to be blamed for this feeling in my older kid, but then I heard experiences from other mom's and realized this is a natural phase that the child goes through. They require time to accept the presence of this new human being.
All good things happened when Bhaiyya was a baby!
This is what you will hear from the younger ones. There are more photos and videos of the older one, there are more celebrations, better toys (the younger one usually gets hand-me-down's especially costly toys) Their 'nakhras' aren't taken that seriously! Reason's are numerous, but generally, it does happen. It doesn't mean we love the younger child any less. It's just that we have learned a few lessons in life.  But explaining that to the child is next to impossible.
Below is a conversation that three children in the age group of 5-7 were having at the school bus-stop. Two are older kids and the other is a younger sibling. "Kid 1 – Since the baby has arrived nobody seems to love me. Kid 2- Don't worry! Things will be okay in a few days. Kid 3 (who is younger) – Yeah, don't worry in a few months they won't love that baby also!!"
It was funny to realize that children too discuss parents just as parents discuss their children! But it also made me realize that children do compare notes and try and use their friend's advice at home, just like parents. So if my kid comes with this 'You don't love me enough story, with large innocent eyes, I know there is something else at play!'
So, if you are planning to have child two, brace yourself for many 'Dhara Ad' like moments! Remember the ad, where the child says 'Sab gussa kar rahe hai, main ghar chod ke jaa raha hu!" You might feel all mushy, but also remember the kids are darn smart and do know how to play the emotional card.
I am linking this post to #BarAThon from Blogarhythm Season 2