My theme is seven and the series is seven situations unique to a mother of two
The first situation that I am going to talk about today is being a referee
---
You must have heard that if there is a sister or a brother, you don't need a friend and I have experienced the same first hand, so I can vouch for it, however, all this is true once the children are old enough to understand intense emotional feelings. Till then, for a mother, it's a long career of being a referee or an umpire. The moment you become a mother, the second time you have to gear up for this position. It doesn't matter if the kid 2 is only a baby and goes gaga, goo the whole day; there will be some obscure way by which your kid 1 is annoyed and you are summoned to ensure peace.
If the age difference isn't much and they are either two girls or two boys, there is a different problem. Child 1 will automatically get territorial and there will be a verbal or non-verbal war about who owns Mumma! (read who gets the most attention) and somehow you end up doing a lot of explaining and cajoling of how the time and attention is being given equally to both. They won't understand or accept however you will keep trying to avoid the house from falling around your ears.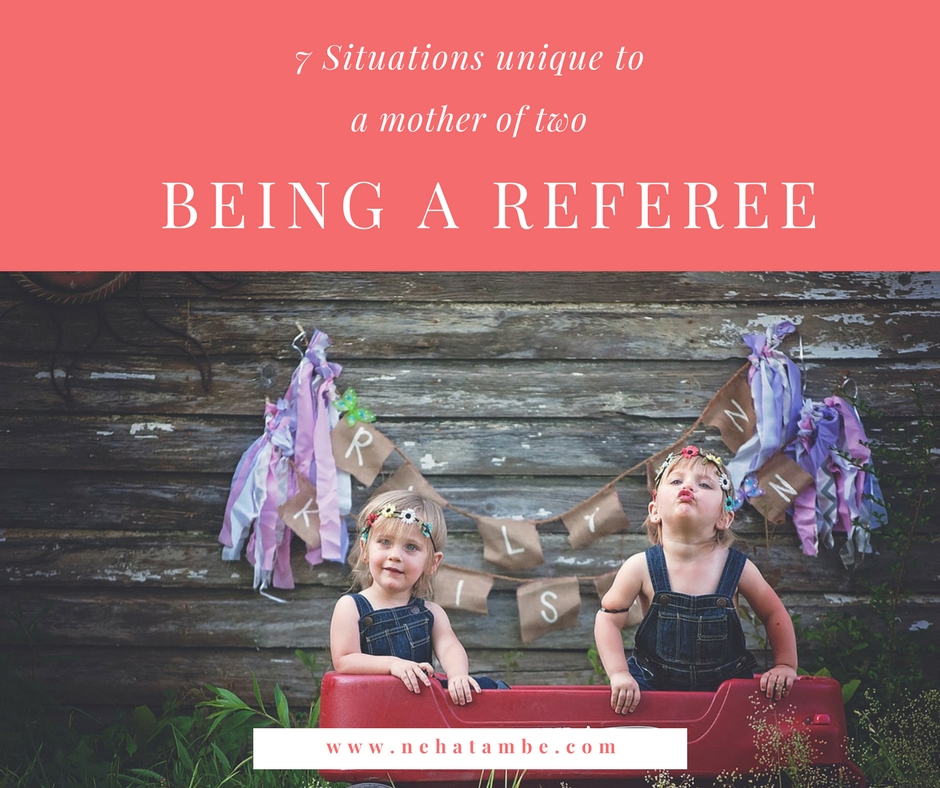 If the age gap is enough where the older sibling is at an age where he can act responsibly, suddenly all the love and anticipation related to the arrival of child 2 will vanish and you will have to answer some weird questions, like "Who decided that I will get a baby brother?" "I don't like this baby, please go and get it exchanged!" There won't be open fights in such a scenario, but minor skirmish that you will know exactly who started but have no evidence to pinpoint! Yeah! Well, you even turn into a part detective, but more about it later. And if you try accusing one child of starting it, that child will sulk and other will blame you for hurting the sentiments!
So, you end up having a long career of being an umpire where your decisions are seen with suspicion, nobody is ever happy with you and somehow both believe that you favor the other as if this wasn't a family but an India-Pakistan match!
Do you have two children? What have been your experiences?
I am writing this series and linking it up with Blogarhythm's BARATHON 2nd edition