As a parent, you might be open to letting your child explore alternative careers, but there are so many options – how do you know, which is the right one? As a parent, I have faced this dilemma. My child wants to try every available performing arts or sports but if she plans to take it up as a career, I need to help her find her focus.
With similar thoughts in mind, Sejal Ray started Virtuosokidz  .Sejal is a computer engineer and has a BA in Bharatnatyam. She has performed and won prizes at many competitions in district and state level. Let's talk to her today and understand more about Virtuosokidz.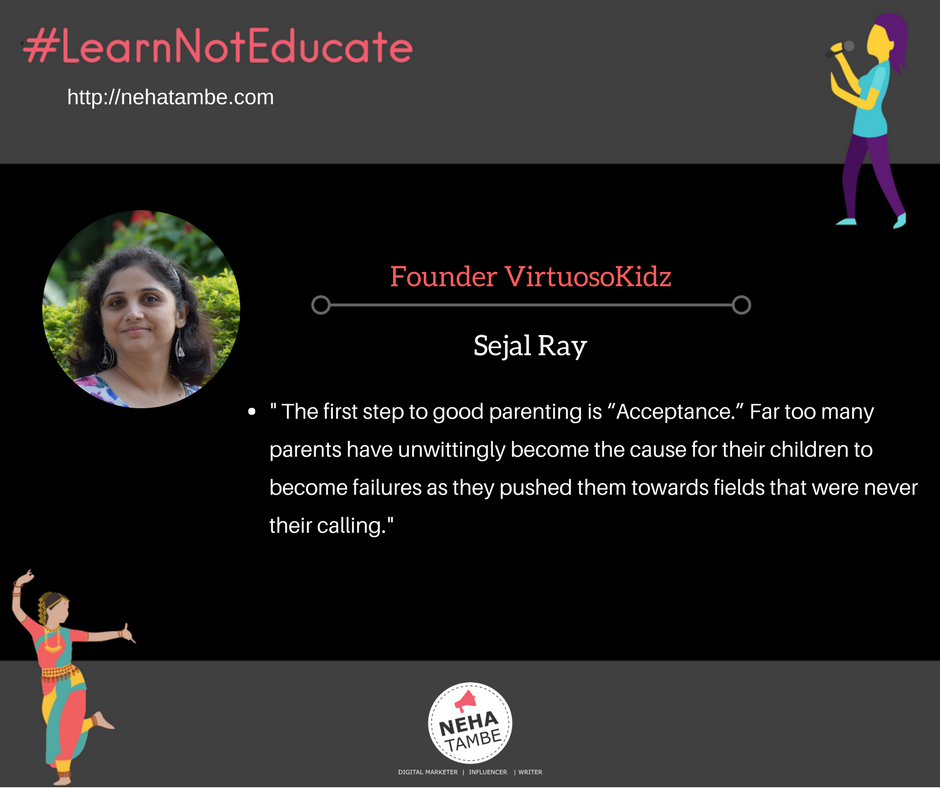 What is virtuosokidz?
Virtuoso Kidz has been started with a view to bridge the yawning gap between parents and their kids by having tie up with like-minded people and later starting a separate blog on WordPress. This has been done with a two-fold view of connecting the two groups and also allowing both students and parents to shed their inhibitions on so called "taboo"topics. An alarming number of students commit suicides in India due to exam related stress. This makes it imperative for parents to take cognizance of the situation and do what's best for their kids. A major problem Indian parents suffer with is the "log kya kahenge" syndrome. At such times it becomes essential to pick up your child and accept that his talent has his copyright and it is EXCLUSIVE! If he is a naturalist, a writer, an engineer or a lawyer in the making the first step to good parenting is "Acceptance." Far too many parents have unwittingly become the cause for their children to become failures due to their pushing them towards fields that were never their calling.
How and when did you decide to come up with virtuosokidz?
I got to know about this programs through a magazine and I got my children to participate in those. I saw amazing results in academics. The concentration level went a level up!  They started studying on their own. They started being more considerate towards others. This made me think – how would it be if this kind of difference can be made in children's lives?  Why not take this up and multiply the impact by making it available for more and more children? This in turn will have an impact on parent's lives too!
 How is it different from other aptitude tests?
There are two parts to my program
Mid brain activation. This provides high level of concentration, memory, focus to kids as part of the programs. Besides this, my program provides weekly assignments that help to develop bonding between children and their parents, enabling them to share all that is important with their parents, overcome fears and gain inner strength.
Psychometric test – The test provides the overall details of personality of a child based on the behavior, interests and attitude. My program also provides various modules of one to three months based on the inputs of the psychometric report. The modules offer actionable solutions.
How will it help a child decide his future?
A part of the report talks about the potential career opportunities for a child/individual based on the personality, interests, behavior of the child. This gives an insight into the probable areas that can be considered for the future of the child.
What kind of research and study has gone into coming up with this site?
I got my kids undergo this program. Then I got trained and started conducting classes and actually experienced the changes children go through during the mid-brain activation program and hence conducted 3-4 batches of this program.
Similarly for finger print analysis and psychometric analysis, I actually got this done for 25-30 children and got feedback from parents which were amazing. I also contacted many such trainers who are involved with these programs to find their experiences. I did go through a lot of material on net to find out the views and opinions of larger set of people. This all supported me in coming up with my own website.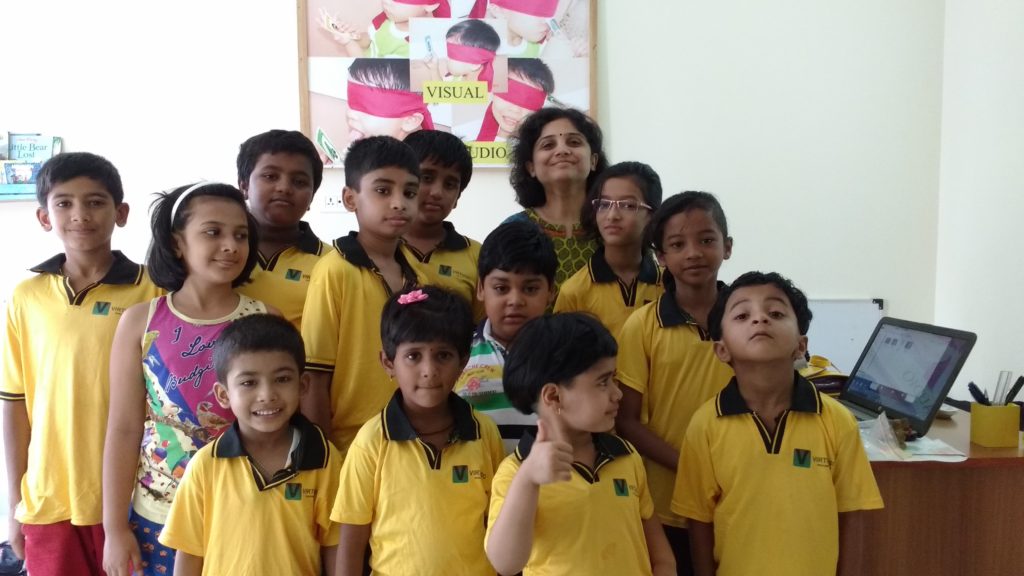 What is the future vision for Virtuoso
I want to make this website a one stop solution for parents for anything linked with the mental health of the child. I plan to have information of many more programs on my website that is linked with happiness of children. I also wish to have counselors register on my website and have all kinds of counselors and psychologists on the website.
For more information about VirtuosoKidz you can connect with them on
Facebook page – https://www.facebook.com/Virtuosokidz/?ref=bookmarks
Email id – [email protected]
Contact no – 7083962457