Jog Falls isn't really close from Bangalore, but if you have a long weekend, it's definitely worth a visit. It is the second biggest fall in India and is a beauty to behold in monsoons.
How to Reach Jog
Bus
You can take a bus till Sagar (a place, not the sea!) and then take a local bus or hire a taxi for sightseeing.
Car
You can even hire a car all the way, or drive around, however as this is in the interiors working knowledge of kannada is essential if you have to ask for directions. Last time we checked GPS or Google Maps didn't work around here.
Stay and tour
Sirsi, a bigger town in Uttar Karnataka is a place I would recommend to stay and then hire a taxi or driver from there for these sightseeing. Usually you can stay in Sirsi and cover Jog Falls, Murdeshwar, Shimogga, Sahasralinga and many falls around Sirsi. More about this later, however we did this and we found it extremely convenient.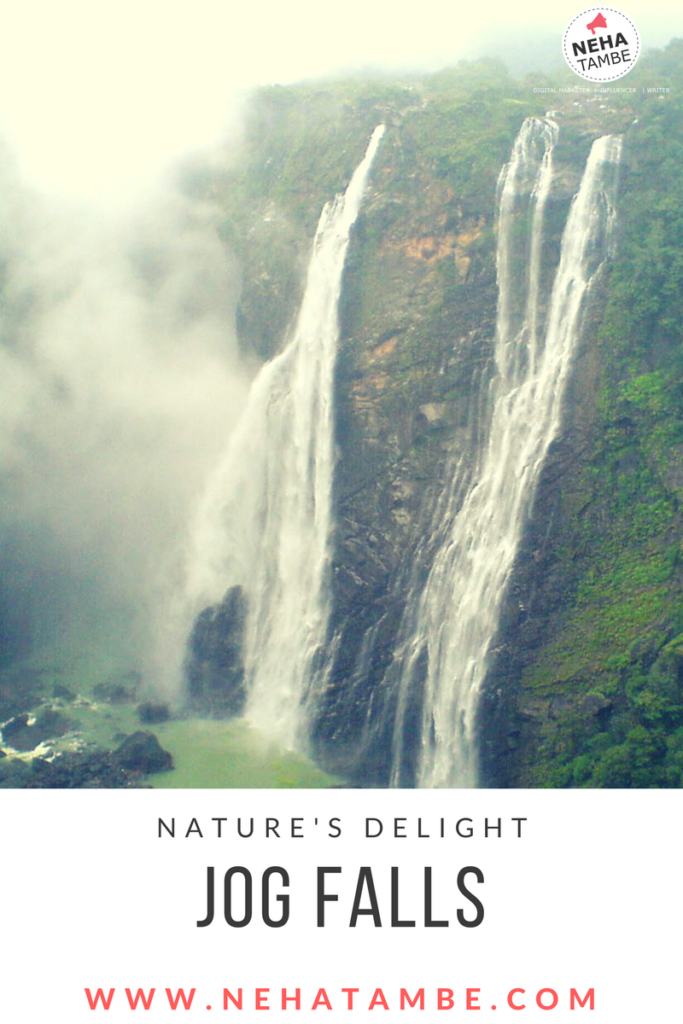 Jog Falls or Gerosoppa Falls
Jog Falls is created by the Sharavati River and is a segmented falls. If you are viewing it from the view point, in all its glory, you can easily see four streams which are named – Raja, Rani, Rocket and Roarer. Cool names! Isn't it?
Apart from the viewing point, one can trek till the mouth of the falls and see the river coming in. It is the perfect picture of 'Calm before the storm' If you are in the river you won't imagine there is such a big fall just a few meters away. Dense greenery till your eyes can see and a magnificent waterfall that's easily enveloped by the fog rising from the falls is a nature's treat.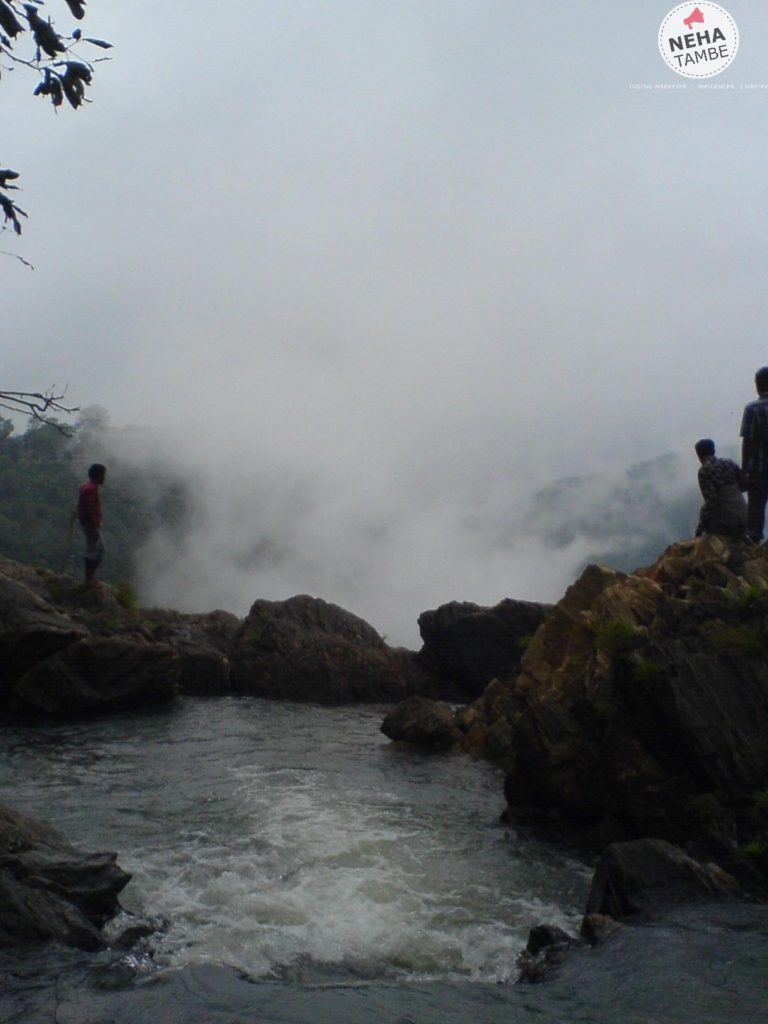 As the falls is fed by Linganmakki dam, usually it is just a small trickle in summers. The best time to see the falls is between June to September. We have been here more than once and I can assure you summer is a no-show!
Monsoons at Jog Falls
Monsoon is when the falls is in its full brilliance and you can hear the waterfall even before you reach the place. It is a wonderful feeling to walk in a quiet forest, where you are just about wondering, if you are lost and then you hear a roar – A powerful gush that reminds you of nature's might.
When we went there in the monsoons, there were people gathered at the viewing point as if they were waiting for a superstar to make an appearance! The reason – the fog that rises completely envelopes the falls and you know there is a waterfall, behind that thick curtain of fog, only by the sound. The waterfall plays peek-a-boo as the fog recedes and you see the magnificent waterfall for a few minutes, only to be covered again. If you can catch the occasional rainbow, you have the perfect photograph.
Just as the monsoons are receding is a great time to visit too as you can go to the mouth of the falls. Because of the force of the water and there being absolutely no safety measures in place, it is not recommended or allowed to go near the mouth of the waterfall.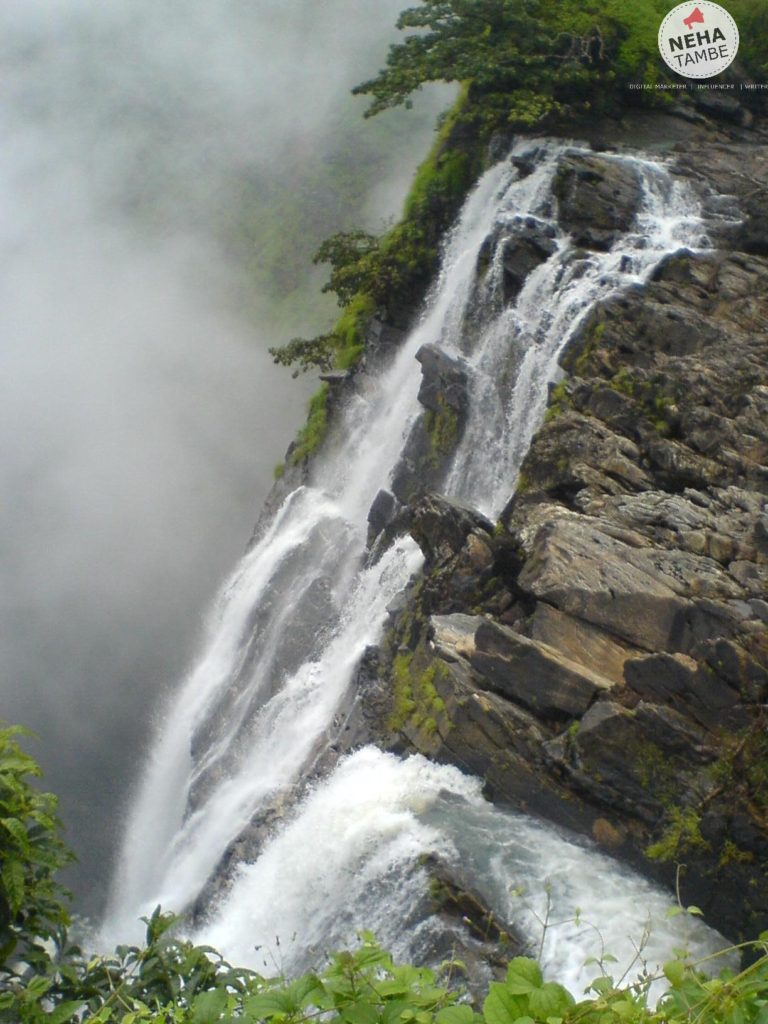 Food and other facilities
Like any good off-beat place, this has only a bare minimum. There is a restaurant and a government guest house at Jog Falls. Occasionally when the tourists are more, you will find an odd snack seller, but otherwise this place is bare. If you do not have enough food on you, eat at the restaurant otherwise, you won't find a decent place till Sagar.
Have you been to Jogfalls? How was your experience?
This article is written as part of #SuperBloggerChallenge2018, conducted byHealthwealthbridge, FashionableFoodz andAllaboutthewoman. It should not be repurposed, republished or used otherwise. The content herein is owned by the blogger. SuperBloggerChallenge2018is not responsible for any kind of infringement caused.