Makar Sankranti was recently celebrated in India. It was celebrated on the 15th of January this year. Usually, the festival falls either on the 14th or 15th of January. This year on the occasion of Makar Sankranti I witnessed a different aspect of the festival – a true celebration of good health and food.
You wonder why?
I currently live in a big society that has people from almost all parts of the country. Now as is usually the case, a particular festival holds greater importance for a particular state or region and hence people from those areas come forward and arrange the community festival aspect of it in the society. So Ganapati is usually from Maharashtrians, the Durga Puja is by Bengalis while Navratri Garba is by Gujarati's… you get the drift! But when it came to celebrating Makar Sankranti, the whole of the society actually came up with loads of ideas as this particular festival is important across India!
As we got together to discuss the way forward, we realized two things.
Makar Sankranti is called many names but the idea is common across India – celebrate the good harvest and thank nature.
Each one had a unique tradition or dish that made their Sankranti different from others.
What is Makar Sankranti?
Makar Sankranti is known by various names across India and in some other Asian countries too. The significance of this festival is associated with the harvest. This is a festival that is set by the solar calendar that means it signifies the end of winters and the arrival of longer days. This ancient festival is a beautiful confluence of ancient wisdom, astronomy, and agrarian practices.
The festival is important for multiple reasons
It marks the end of the month with winter solstice for India, which means it is time to enjoy longer days and the chill in the air will soon be gone.
It marks the beginning of harvest season. Freshly harvested food is available in abundance which is mostly used in the festive celebration
The festival is usually celebrated by sharing sesame seeds and jaggery. It also marks sharing food, spending time in fairs and fests and flying kites.
I got to know about the festivities that are held in Punjab, Karnataka, Maharashtra, Assam, and Gujarat because of this conversation.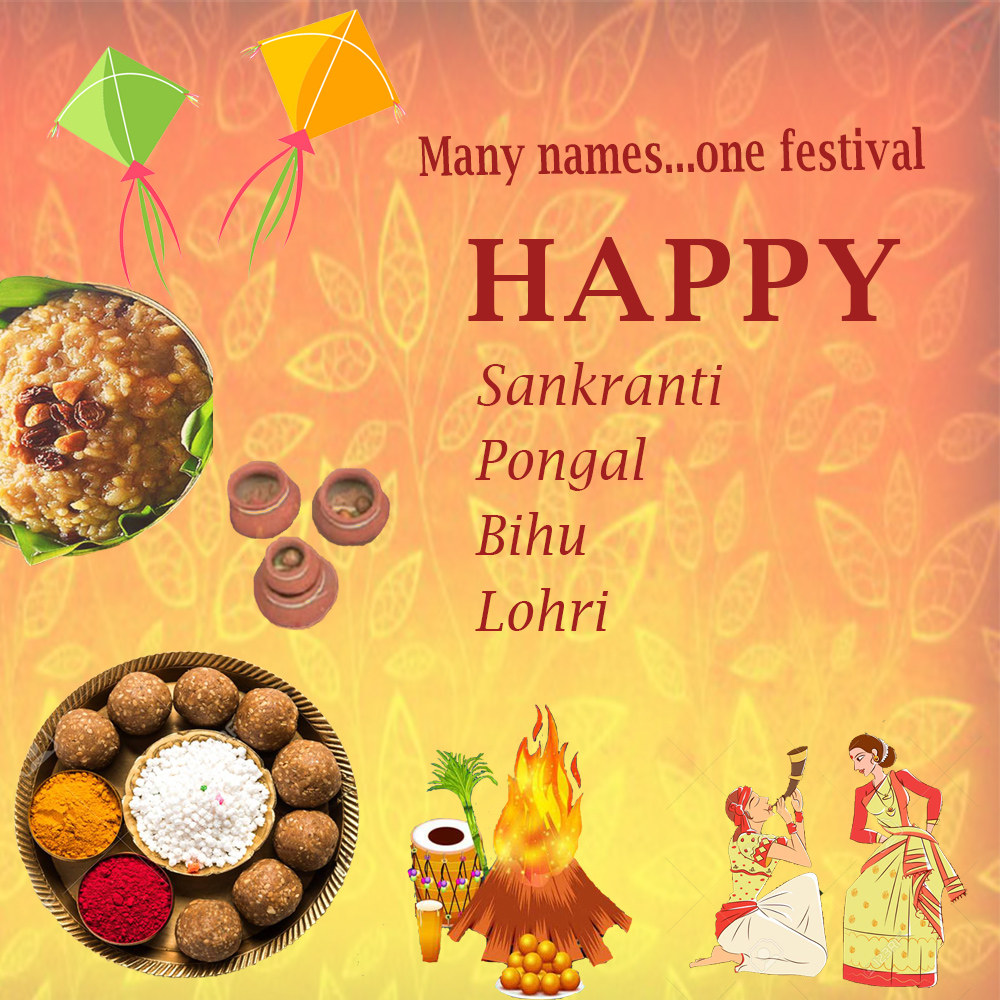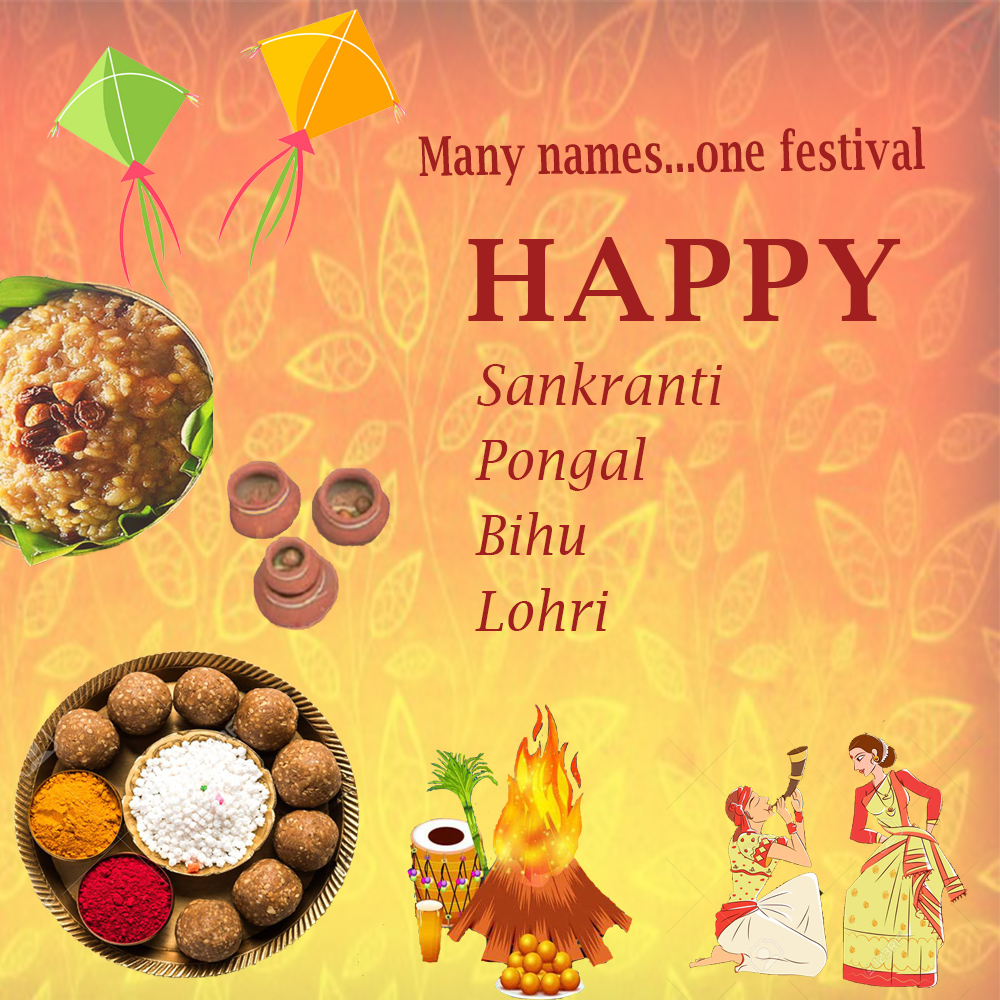 Punjab
Punjab starts its Sankranti festivals by Lohri. Lohri is usually celebrated one or two days prior to Makar Sankranti. A pyre is lit. People pray and offer corn, sesame, gajak to the pyre. They distribute jaggery as the traditional sweet for the occasion. As it marks the end of winter, there is a lot of song, dance, and music around the fire. The Sankranti day is known as Maghi. There are Maghi fairs and lots of food during the festival period. Traditionally, Makke Di Roti, Sarso da saag and kheer of rice and sugarcane juice are prepared.
Karnataka
As this is the harvest season. It is time to share fresh produce and make sweets from rice, dal, and jaggery- commonly known as Pongal. Sugarcane and jaggery are commonly used in Sankranti festivities across India. On Sankranti, friends and family visit each other and distribute a mixture of ellu-bella (sesame, groundnuts, dry coconut, phutani or pottu kadalai) The common wishes that are exchanged are take this jaggery mixture and may your speech be as sweet as jaggery.
Maharashtra
In Maharashtra, people make til-gul laddoos (sesame and jaggery) These are shared among friends and family with the wishes of " Til Gul gya ani goad bola" ( may this til-gul mixture bring sweetness in your speech. Gul poli is also prepared on Makar Sankranti.
The farmers worship earthen pots filled with fresh produce of the season like – peas, carrots, broad beans, sugarcane, sesame, bajra etc. and these pots called (sugad) are exchanged by the women in the house praying for prosperity and thanking nature for a good harvest.
Assam
Magh Bihu, also known as Bhogali Bihu is a harvesting festival. Community feast is organized and fire god is worshipped. People also make different types of pitha (a type of rice or wheat flour cake, some filled with sweet and savory fillings)  and sweets. Families go to Namghars to offer prayers and thank god for a good harvest.
The young ones seek blessing from the elders and enjoy the feast of laddoos and pithas.
Gujarat
Makar Sankranti is comparatively a bigger festival in Gujarat. Kite flying is the highlight of Makar Sankranti. The state's skies brighten up with thousands of kites in the sky. The sesame and jaggery chikki is another common thing that almost all states share on Sankranti. Undhiyo, a spicy curry of Gujarat is made with fresh produce.
After coming away from the discussion I realized as an agrarian country this must be the only unifying festival that is celebrated all over India! A festival that truly celebrates nature and good produce of our country.