In an earlier post Road Trip in times of Pandemic – Few Tips for the family travellers, I had talked about how we overcame our anxieties and started doing some road trips around Pune this year. Today I am going to share some of these travels and some information about it, in case you too plan to travel to these places. To avoid crowds, we usually travelled to the lesser-known destinations and hence not all our trips were a dream! Some were fun, some taught us to do more research and some were impulsive but the one thing that was common in all these places was the fun we had! All these places are very near to Pune and can be done as a day trip.
Here are a few places that we explored and road tripped to in 2020.
Necklace Point Bhor
This was one of our first trips and we were really anxious about how kids would travel but thankfully everything went smooth. It was the month of August and all the mountains and valleys around had turned green. We planned to go on the 15th Aug and the morning started with cloudy skies and a promise of rain. The cool breeze was enough to push us into action. We packed a sabudana khichadi breakfast, hot tea in the flask and some snacks for munching and got into the car. The place is around 50-60 km away from Pune and the roads are good so the drive was lovely.
As we reached near the point, we saw a few families clicking pictures but most of the people were maintaining social distancing. We clicked our customary clicks and went back to our car as the views could be seen from there as well. Just then it started raining, and everyone scrambled to take cover. A few college kids who didn't mind getting wet went for a drive on the long winding road ahead. This presented us with a perfect view as we sipped our hot tea!
Necklace point is a scenic place and a lot of movies have been shot here. The views of the two rivers Nira and Gunjawani embracing each other to form a shape of the necklace is beautiful and the monsoon season ensured that the rivers were in their full glory. We even went ahead to a small village around 2km from the necklace point to have some restful pitstop at the backwaters of the dam. The place was practically empty and kids had their share of fun running in open spaces after months!
Mastani Lake
This was a place suggested by a friend and is just 16 km from the city. Apparently, this lake was frequented by Bajirao and Mastani as they loved the views and the privacy that the lake offered. The place is popular among cyclists and usually sees a lot of fitness enthusiasts or cycling groups in the early morning. Here too we carried our own breakfast, tea and some snacks. We left early morning to reach around 7.30 am. The cyclists were on their way back and it was early for other tourists to visit the place to it meant we had the lake to ourselves! With the incessant rains, the lake was filled to the brim and the water was so clear that it mirrored the lake surroundings. There is a small temple near the lake – Mastaneswar Temple, its vicinity proved to be a good resting spot for us. There were custard apple orchards, vegetable gardens and some tamarind trees circling the lake. Children and adults alike had fun plucking tamarinds. It was a great time to see some birds as well and we sorely missed getting our binoculars. The lake has some tunnels, one of which announces to be an underground tunnel to Shaniwarwada!
There is a small hotel on the lakefront and it was just starting for business when we were leaving around 11 am so I am not sure about the food and its quality but I would advise carrying your own food and water as there aren't many options till you hit the main road.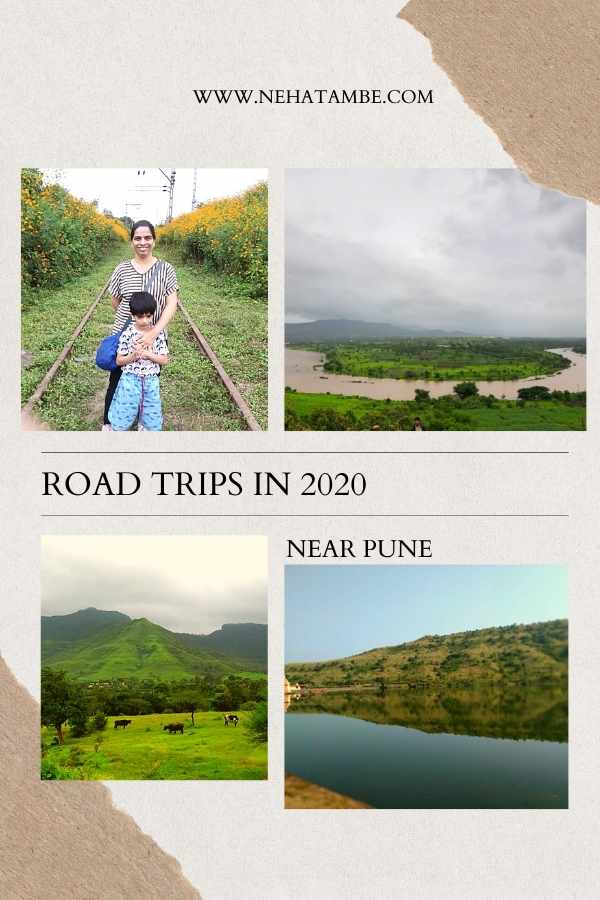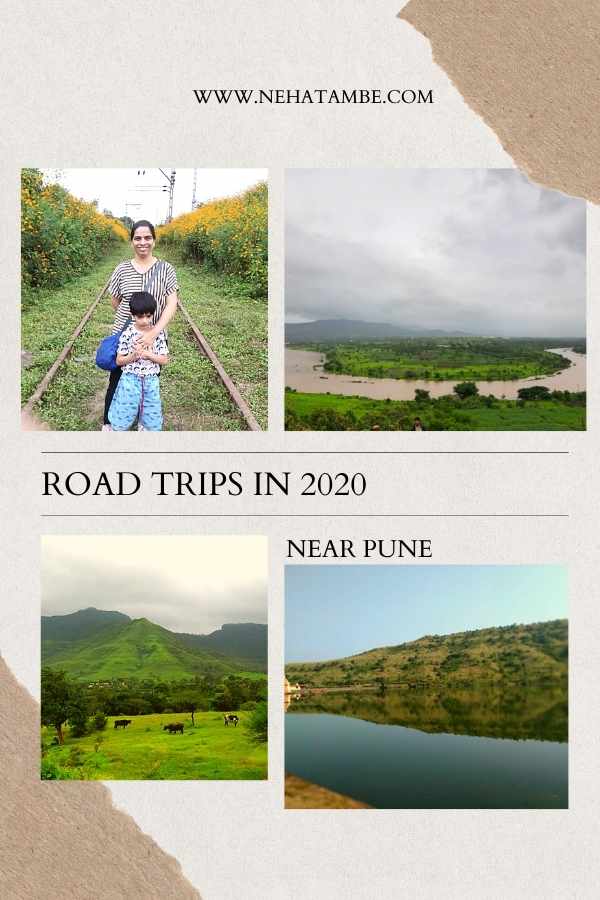 Purandar Fort
This is another quick drive from Pune. Located at around 40-50 km from Pune, Purandar Fort is known to be the birthplace of Sambhaij Raje – Chatrapati Shivaji Maharaj's son. The drive to the fort is beautiful in the monsoons and the winding road from the base is well maintained, except for a few places. Visitors were not allowed in the fort when we went and so we parked at one of the bends and had our small picnic in the car's backseat. The place was again very scenic and serene. We saw some beautiful birds and the drive itself was enjoyable. Even in normal times, the fort is maintained by the army and serves as their training centre. While tourists are allowed, you are expected to follow the rules and click pictures only in places that are permitted by the military.
Begdewadi
This was an accidental trip and we really didn't have a destination in mind when we left for this place. We were just looking for some waterfront around Pune and we found this place near Talegaon. Google maps showed some Andra Dam and that was our destination. However, as we neared the place we realized that the picturesque side of the dam backwaters was captured by the resorts in that area. With Corona cases refusing to come down, we weren't comfortable visiting a resort and so we decided to take an alternate route back home. This is when we chanced upon Begdewadi. The area is under military control and there are a few places where you aren't allowed to stop or click pictures.
I have a feeling that monsoons or just after the monsoon season is a good time to visit this location. When we visited, there were millions of forest flowers covering the route making it a scenic drive. There is a railway crossing there and the tracks were flanked by these flowers on both sides making it a gram-worthy spot.
These were some of the places that we explored in the past four months. Now with the situation improving, we are hopeful of doing some trips that are farther that these areas in the coming months. Have you been road tripping in 2020? What places have you covered? Do share in comments below.