This post is for my granddad. This is his 100th birth year and though he is not with us anymore, the values that he instilled are a torchbearer for not just our family but for the whole of Sirsi –a town in Karnataka.
As a child, I didn't really know what he had managed to accomplish and the whole aura around him. We stayed in Pune and only went to our native place during vacations. Those visits were usually rushed and did not last more than a week as we had to visit both mom's place and dad's place.
We met twice a year for around a week or 10 days each. Once when we visited our native place and the other time when my grandparents visited us in Pune every year. So, I can't really say I had a very close bond with my grandfather or that we spend endless hours talking about a multitude of things, but there are a few very distinct memories about him in the role of a grandfather.
It's storytime
When we were visiting Sirsi, all our cousins timed their visit accordingly, so we were mostly busy playing, chattering or just being pampered. Grandpa would usually be sitting in his library with a book in his hand. Many of the books revolved around spirituality, medicine and whatnot, but every day he read at least one children's storybook to ensure that he had a fresh story ready for us kids to hear when we were lazing around in the verandah after a hearty meal.
His booming voice was enough to get things moving, and most people were petrified when he started talking but when he was with children, the same voice had a different tone to it and matched the style of a skilled storyteller. I don't remember him shouting at any of us ever but dad and his siblings apparently had a different image when they were growing up.
Grandpa was a voracious reader and I hardly remember him without a book by his side. Maybe if I had more time with him, I would have loved to talk to him about a lot of things and understand his opinion about them but then I guess we mostly take our near and dear ones for granted and think we can do a lot of things some other time.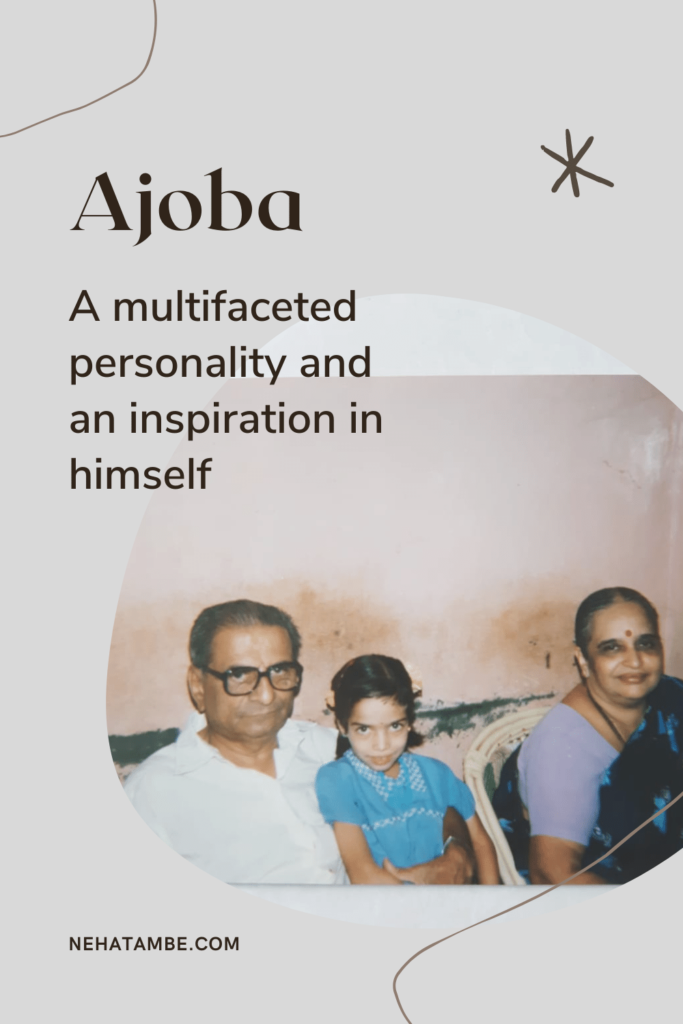 Long Walks
Grandpa was a qualified allopathy doctor – one of the first in Sirsi and nearby satellite villages. He was also very particular about his morning walks. Even at the age of 70, he got up at around 5.30 am and walked for at least 5 km every day. He did not miss it even when he was visiting our place. He never tried to wake me up to go for a morning walk, but in the evenings, when we would go around and I would show him all the places I play or go, he would share some fun facts. He showed me a few herbs that were medicinal and easily available during our walks.
I was one of those kids, who had their fair share of injuries while playing so once grandpa showed me a small plant and said "If you fall down, just dust the wound clean, crush these leaves and apply them on the wound. You should be fine till you reach home and mom has time to take a look at the injury" I felt like superwoman that day! It was like if I have the magic potion of that herb, no wound is worth worrying!
It also meant I could brag about my new-found knowledge to all my friends and experiment on some of them to test the extent of the herb's healing powers 😀
Communication is Key
Each day when I came back from school, he would ask me eagerly about my day at school. He wanted to know how my day was, what I did, what my friends were like, how was my teacher and more. He listened to my non-stop chatter and never once tried to tell me about how silly I sounded. This is something I am still trying to inculcate in me as I am a parent today. He was the greatest cheerleader when I did something nice and he was ready to be a partner in crime when I had some rebellious ideas!
I remember I hated getting a haircut when I was small. I would cry buckets when it was time to get a haircut. Once grandpa was home when it was time for my hair cut and the moment he saw me crying, he actually gave my parents an earful! I was just amazed and speechless 😛 Furthermore, he even instructed me to write him a letter if they ever try to get my hair cut without my approval! I truly felt like Harry Potter with a magic wand!
It was only after he expired did I truly get to know the kind of respect he commanded in our town. He was one of the first qualified doctors to have studied in one of the finest medical colleges of that time in Pune and still decide to go back to a small town and set-up a practice. He worked tirelessly for the betterment of our town and the satellite villages, ensuring that there are better educational, health and sanitization facilities. He was instrumental in setting up a school for children – normal and mute and hearing-impaired children, hospital, and crematorium, among a host of other things.  He inspired more than two generations of doctors not just in our house but in the whole town.
After understanding Ajoba's brilliant personality, I realized the true extent of my loss. There was so much to learn from him and idolize. This is his centenary birth year and the medical association of the town are coming together to celebrate his life. The only thing I can hope for is to collect and preserve these memories and share them with my children to inspire them to be a better human being.