Do people around you call you an adventure junkie? If yes, then you must have crossed many adventure sports from your bucket list; but if that is not the case then you need to check out this article because we have put together a list of 5 adventure sports that you can experience at 5 different places in India. The list has experiences like caving, paragliding, kayaking, scuba diving and skydiving; you will have fun reading it!
Meghalaya
India is a land of such umpteen possibilities that sometimes it just blows away the mind! You can literally experience all kinds of adventures, in various parts of India. For example, if you wish to go on cave exploration then you need to check out the captivating caves of Meghalaya. The caves of Meghalaya are surrounded by lush green forest and waterfalls, and exploring this natural beauty is an enthralling experience in itself. One travelling tip: do not forget to pack food, water and a good torch, before going on a cave exploration; you will need them for sure!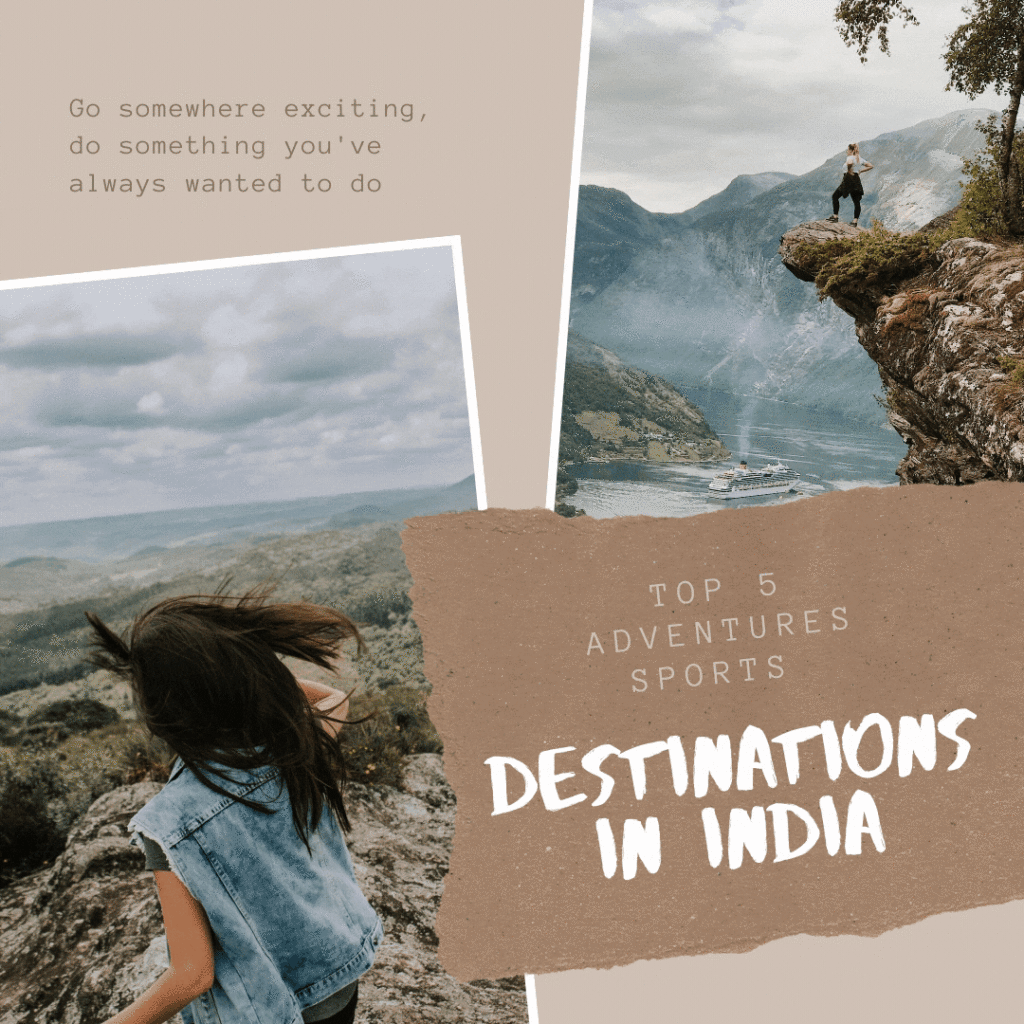 Aguada
When I ask you about Goa, you would instantly tell me that Goa is the party hub of India. But, what if I tell you that this place has a lot more to offer to its visitors? Yes, you can experience off-beat Kayaking in the mangroves of Aguada River that flows within Goa. Imagine yourself sitting in a Kayak and exploring the forest area of Goa; truly an enthralling experience and trust me only few would know about it. Apart from this, you can also check out Mandovi River in Goa; so what are you really waiting for!!
Bir-Billing
Do you wish to paraglide from the second highest place in this whole world? Well, if yes, then you need to pay a visit to this adventure sports destination of India, called as Bir-Billing. Bir-Billing is a small village of Himachal Pradesh, with a beautiful backdrop of mountains and greenery. While paragliding, you can enjoy the panoramic view this place has to offer, plus enjoy your landing amidst raw beauty of nature. You can work out the whole plan with an online travel portal and book your package to save extra on your booking.
Mysore
Ever wish to fall free from a great height and let-go off, all the backlogs that you have in your mind? If yes, then Mysore is the next place you should be heading off to. This place offers the option of skydiving amidst green valleys. If you are up for it but still scared, I get the feeling! You will however, be given a proper training for a day or two, before your actual experience, so you need not really worry. If you feel that you are still not ready to take the plunge (literally here!), you can even go for the Tandem Jump, where the instructor will accompany you. You will not have to do any work just enjoy the pull of the gravity!
Andaman & Nicobar Island
Andaman & Nicobar Island has barren and secluded islands and they offer the majestic experience of scuba diving in clear water. Just dive deep down in the crystal clear water and check out basalt formations and coral gardens, in the water. Believe you me, you will never be able to forget this experience in your life. If you love water and adventure then this adventure sport is for you!
This is a guest post written by