I am with my kids in a park or meeting someone new, so this is how the conversation typically goes after the usual pleasantries.
Hi! I am X
Hi! I am Neha Tambe
X- Do you work?
Me- Yes, I am a Digital Marketer
X- Hmm.. what do you do?
Me- I create marketing plans and strategize to provide brands with maximum reach and ROI for their online marketing spend. I use various social media marketing channels and tools to advertise and promote the brand online.
X- Oh! So you put those pics and post on Facebook..
This is more or less the conversation I have when I talk about my work. There is a lot of ignorance when it comes to Digital Marketing; however, it gets compounded when I say that I am a soloprenuer working from home. People just assume that I am someone who likes random posts on Facebook 24*7 and gets paid for it!
This Independence Day I want to clear some myths associated with being a Digital Marketer. When I say I am a digital marketer and I work from home, these are some hilarious myths that I need to battle.
Oh! You work from Home – (so you don't work at all)
Somehow, even today, people assume that those who work from home only eat-sleep and work in their pajamas! They also assume 'work' is something that is done as per convenience. I mean in today's day and age when more and more work is going global and people are working remotely, how can people even assume that they will pay a person just for sitting at home and opening a laptop is beyond me. According to a recent study, people who work from home end up working more.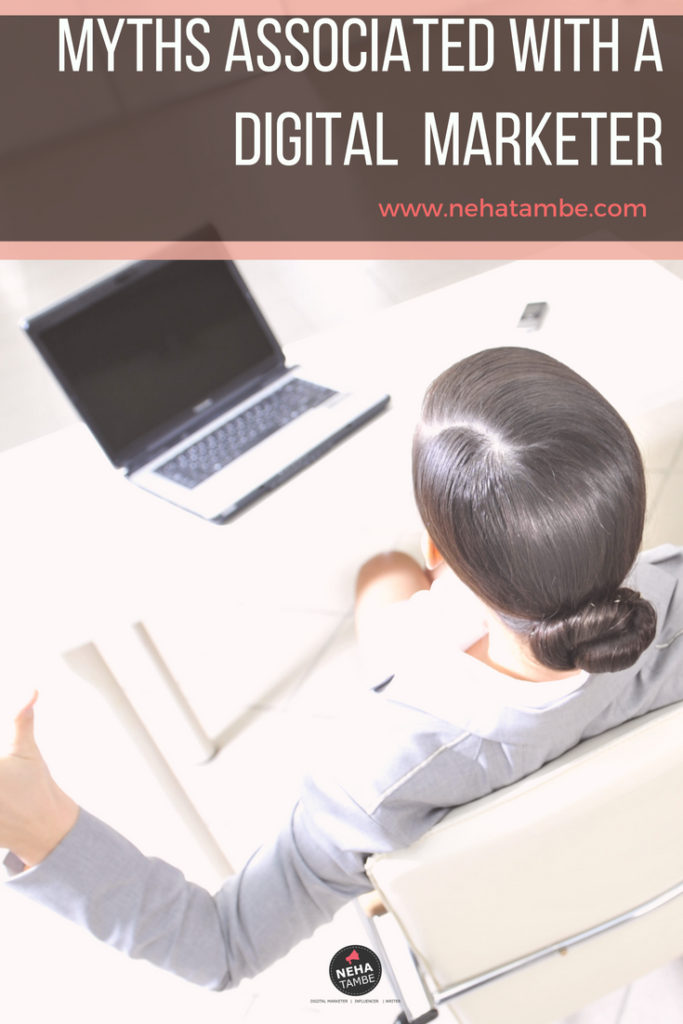 Digital Marketer.. what? – So you are online on FB and get paid for that!
This is one myth that I am asked regularly. People just assume that I sit and like + comment on Facebook or any other social media of my choice and get paid for it! I mean, that could be a dream job, but I do much more than that. They have even asked me why don't I do this on the side and take another full-time job! Fun fact – If this kind of work is supposed to yield results, it needs a lot of effort and focus. It is just like any other full-time job.
Social media is Free Why pay for it?
This is something that I come across when I am dealing with small businesses that are new or do not know about social media. I understand that as a new business there is a cash crunch or most businesses are trying to go lean however if you are expecting someone to work for you and give you tangible results you need to pay for it. Though most channels are free, the tools used to analyze, create content, monitor and amplify are not free.
Get me some work too! I have a profile on social media.
I get it if someone tells me that this looks interesting and I would like to learn more about it. But when I get calls saying I can do what you do and the yardstick for, that is the fact that they have a social media account. When I advise them to work as an intern in some agency to get a better grasp about the topic and have some hands on experience, I get varied answers from– "Oh! That is far from where I stay" to "Interns aren't paid much!"
If you wish to learn something on the job, then shouldn't you be ready to make minor sacrifices? People see I work from home today, but don't realize that I have studied the topic for nearly three years, spent another 4 years working in the same industry before deciding to go solo.
How many sales do you give?
This is the question that has me in splits! If you want your product or service to be marketed, how you can expect me to give you a random number of sales? Do you ask these questions when you print flyers or run a radio or TV spot for your business? I do marketing keeping in mind the client objectives, which are then broken down into smaller goals. Implementing strategies, understanding what is working and then reworking on them to get results is the whole idea of this marketing exercise. Apart from this, the enquiries that are received need to be pursued, followed and converted.
This independence day I wish to be free from these misconceptions and hope that people respect work rather than labels and see solo-entrepreneurs or those working from home in a better light.