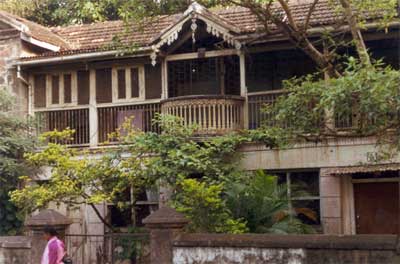 Tara was home. A sprawling dwelling made of stone on a busy city street. This quaint wada had been built around 100 years ago. A small but beautiful garden welcomed you once you entered the gate and at the end of a meandering cobbled path was the main entrance of the place. As she walked in, the city noise magically vanished. It was a special day today and all her family members had descended on this place, but nobody was in a chatty mood. They acknowledged one another, but all were busy having a dialogue with the wada. Even the ever querulous aunt was uncannily quiet.
Four generations, of the family, had lived in this wada together. Tara smiled as memories of the many pranks played by her and her boisterous cousins played back in her head. This wada had been her sanctuary, a place to run away to from the pressures of modern living. The quaint surroundings filled her heart with peace. She had learnt, lived, loved and even wept here in its embrace. She saw everyone was lost in their thoughts. Everyone had many stories that just flowed out from the recesses of their memories.
Now, as is the rule of nature, the old had to make way for the new and the wada was being torn down to make way for modern apartments. Today was a get-together where they all came and bid goodbye to their beloved wada before it became history.
*Disclaimer- The image is just used for representative purpose. The story is not about this wada and is a work of fiction.
Linking this story with A-ZChallenge and Blogchatter.