Anyone who knows me well knows that instead of trendy stilettoes and pumps, I prefer sneakers and slip-on canvas shoes on any given day. For someone who is normally running around two energetic kiddos, comfortable shoes are way high on the priority list.
I recently came across Toesmith – a trendy new sneaker store that allows amazing level of customizations.
About ToeSmith owners
Toesmith is the brain child of two Delhi IIT'ans Ashish Prakash and Aayush Jindal. This is their second start-up and is already making waves. Started in 2019, Toesmith is looking to tap into the current generation's interest of customization and personalization. This 'Made In India' brand is built on solid experience of business and a deep understanding of the shoe manufacturing sector.
Sneaker shopping experience on ToeSmith
ToeSmith uses an innovative 3D interative design tool that helps a customer choose from any of the 5 aspects of a shoe and customize it. The whole process is extremely user friendly and simple. I tried multiple options before zeroing on the design that I liked.
One can choose the colors or fabrics that they have for customization or upload their own design to get it customized as a design. I browsed for a long time as there are numerous designs to choose from and one can easily get lost here. The designs are categorized based on design themes like mismatch, typography, festive, holiday etc.
However, once I had locked the basic design, customization and order was quick. I could finish it in less than 15 min.
Post Shopping updates and delivery
Once the order is confirmed, I received updates about my shoe in the making at various stages. It is a fun way to update the customer and also provides reasonable explanation for the longer delivery cycle. As the shoes are customized, only after the order is received is a shoe manufactured.
My Toesmith experience
The shoes are beautiful 😀 The sole is comfortable and the memory foam insole cushions the feet. The quality of the fabric is really good. The colors are bright and just the way they were on screen. I haven't tried it on a wet floor so not sure if the sole is anti-skid, but will try that soon. I normally avoid shopping for shoes online as I am not sure about the fit; however Toesmith shoe is a great fit.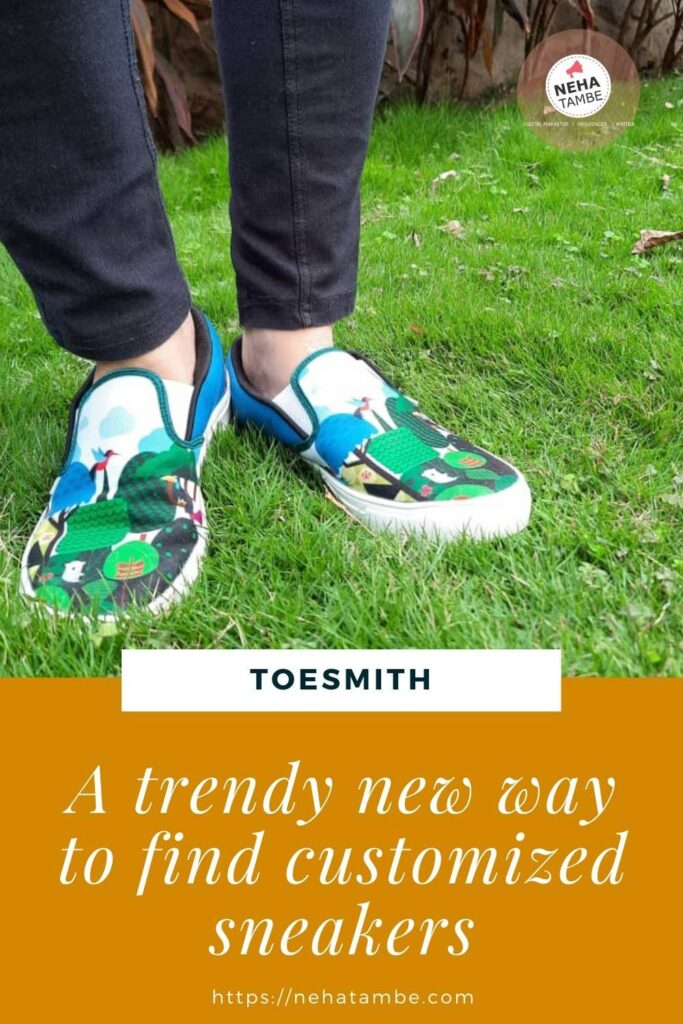 Toesmith for designers
This was another interesting aspect of Toesmith. Designers can convert their designs as shoes and market them as well. Like affiliate marketing they will earn Rs.400/- per sale. This offers designers to be designprenuers and convert their designs into commodities while earning from it. The designers get recognition as well on this platform. Each shoe description includes the designer's name. One can browse designs based on a designer as well!
It is heartening to see that as India is getting vocal for local, a lot of indigenous entrepreneurs are raising to the occasion and coming up with world-class quality products.
This is a collaboration post where I received the product in exchange for an honest and fair review of my experience.
I am writing this post as part of Blogchatter A2Z challenge