Andamans, just the thought of that pristine white sand and blue-green oceans send me into dreamland. I hadn't been very keen on visiting Andamans with my then small daughter, but I was so wrong. It was one of the most laid back trips that we ever had. It was also the time when we saw a beautiful side of the ocean and regaled in numerous water sports!
Andaman is abundant in natural beauty. The scintillating views of the blue ocean and the mangroves along the island make the islands look like emeralds scattered on rich blue silk. One of the best experiences that I had here was underwater walking!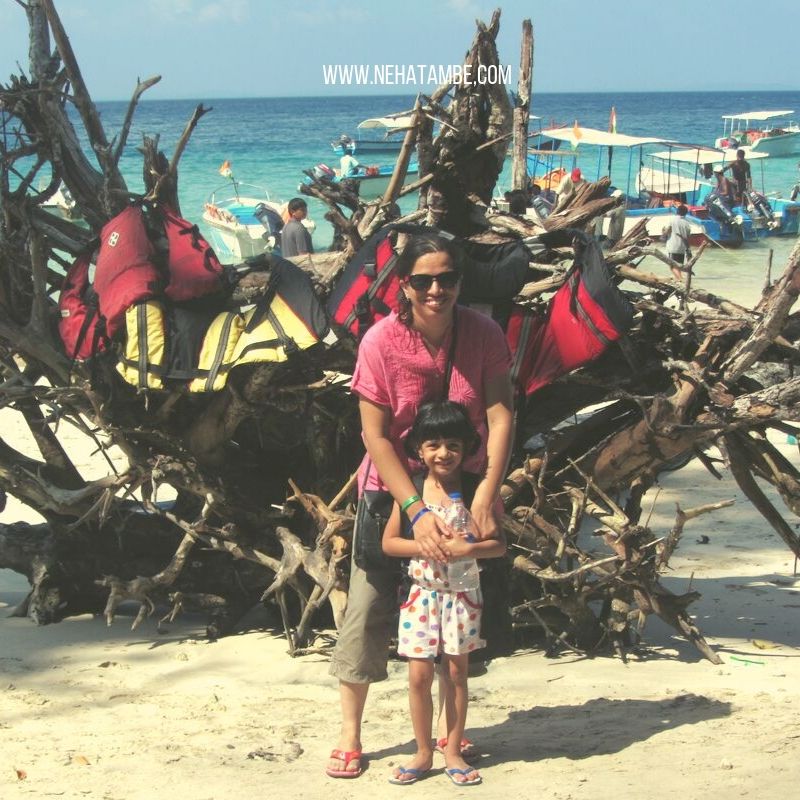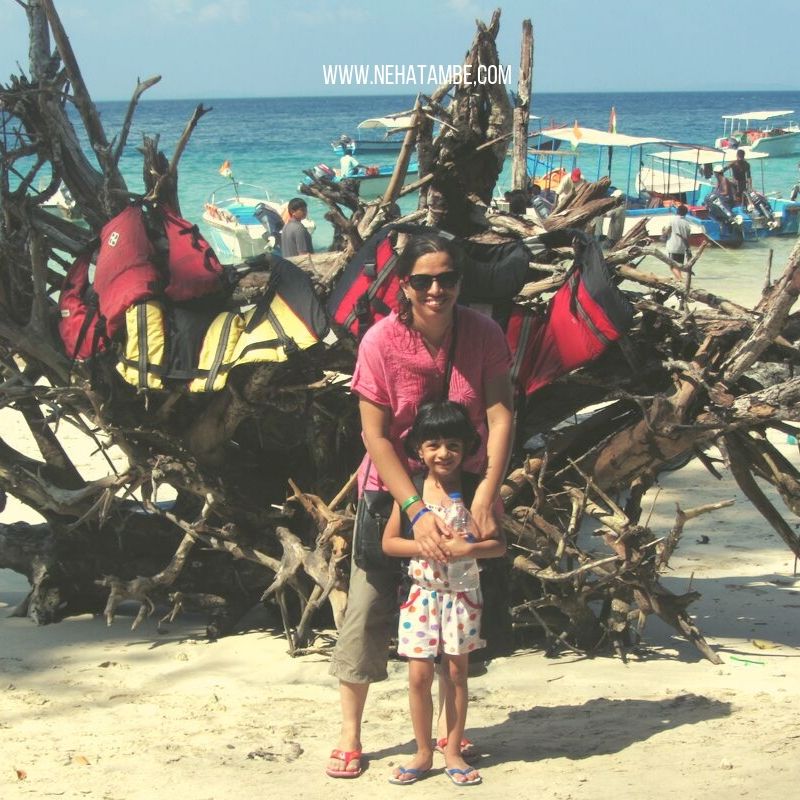 Yup, walking not snorkeling or scuba diving.
For the most part, the water is really clean and clear. We tried our hand at the underwater walking when we were in Havelock. We went to Elephant Beach for our water sports activities. I didn't see any elephants there, so no idea why it is called Elephants beach! On second thoughts, I wonder if there are any elephants in Andaman. But that's not the point, so back to the topic!
Sadly No Scuba
This was actually the result of my incomplete research. Both me and hubby didn't know swimming then. We just assumed that scuba diving would need swimming. So confident were we, that we didn't even bother asking the diver about it. Big Mistake! Apparently, you can scuba dive without knowing how to swim ( such guided scuba diving of course!) We tried our hand at snorkeling and then some regular water sports. As scuba was not an option, I half-heartedly agreed to a glass-bottom ride to see the beautiful corals.
Underwater walk
Just as we booked the glass-bottom ride, we saw this board about under-water walking! As I read the board I was like, I am definitely doing this! The other couple in our group backed out but graciously agreed to look after our daughter who was busy playing with their daughter. This was super helpful as underwater walking was not allowed for kids below 8 years.
After we paid, we were taken on a small ferry to a bigger boat that was anchored some distance away from the coast. As we got on the Boat the divers and the crew gave us diving costume to change into. We actually had no idea what we were getting into so this was kind of fun!
The actual Dive
At the far end of the boat, two divers were waiting for us. They asked if we had any heart problems or were claustrophobic etc. Once we had answered in the negative, they gave us two large helmets to wear. The helmet was connected to a huge pipe, which would be supplying us oxygen underwater. The helmet and the huge pipes reminded me of astronauts!
They told us the basic symbols that would indicate 'FINE' 'NOT FINE' 'NEED To Go Back' etc to the diver. The helmets were open from the bottom and the diver said, the water did not enter the helmet because of air pressure.
While it sounded all perfect scientifically, I quickly sent up a prayer. I was sure, if the water did start getting in, I wouldn't remember any symbols in panic and would probably scare the diver himself 😛
The Underwater Walk Experience in Andaman
As we got down in the water, the water did enter the helmet but stayed near the chin level. As we got comfortable of the experience, the divers took us for a walk on the ocean bed. They had put nets around the area to cordon it off, which was a relief to me! Hey! Don't blame me; I blame the Hollywood movies that keep churning out scary movies with sharks that have sharp teeth, at regular intervals.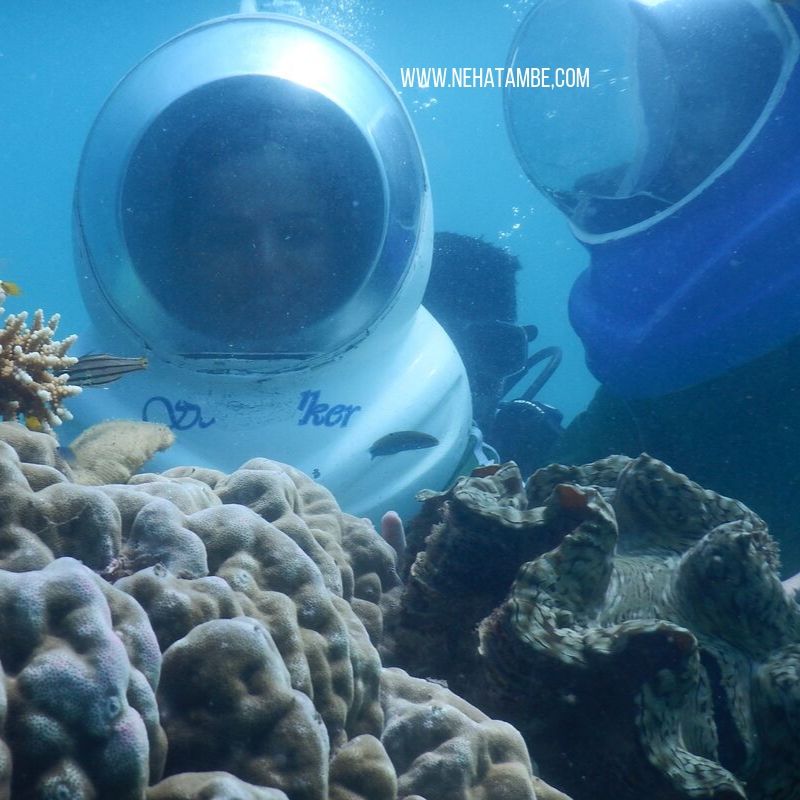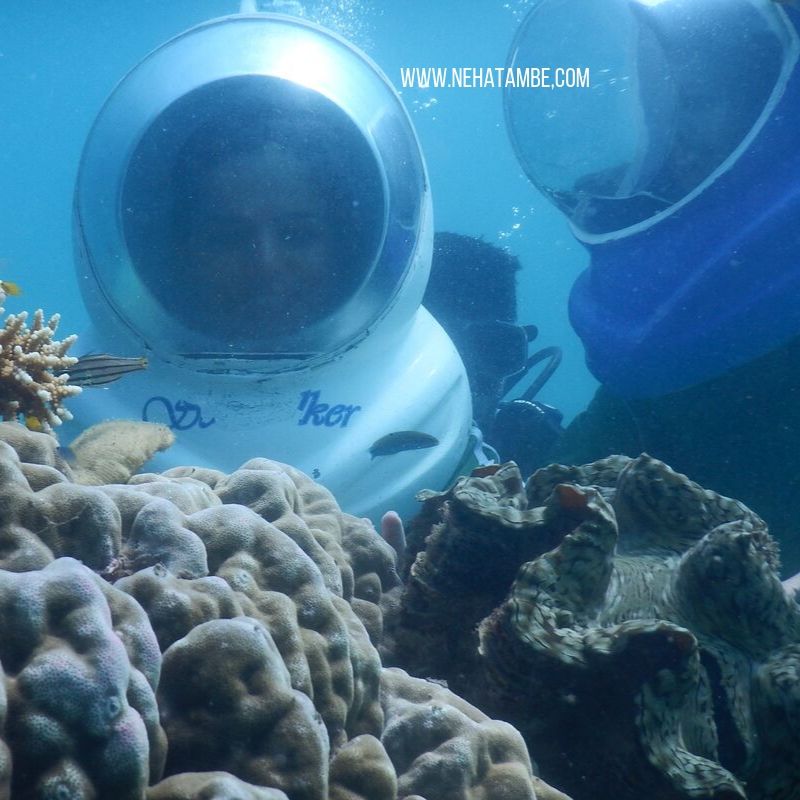 However, all my fears melted as I saw underwater life in action. Schools of colorful fishes whizzed past us as if they were getting late to work! The colorful corals amazed me and the cherry on the cake was a giant clam that looked all-important on a rock!
Exploring and experiencing this aquatic life up close was surreal. No glass partitions, no rush, and absolutely no barriers. We could touch them and it was all just awesome! The 45 min walk was a window to the underwater world and I fell in love with it.
I missed scuba diving this time; however, I will be going back and that time I will be doing scuba diving and more!