In this age of digitalization, almost all of us use email communication either for personal and/or professional use. However, it is important to know about basic email etiquettes, and its correct use in today's virtual world as our email behavior has the potential to harm our professional and personal reputation.
Here are a few pointers which will help you draft better emails:
Email
Etiquette for

Greeting/ Salutations/ Signoffs:
Always begin your email with appropriate greeting to set the tone for your email.
If writing for the first time, it is better to address the person with formality e.g.: Dear Mr. Nair or Dear Sir/ Madam ,though in some industries they also consider use of first name normal or if you interact with the person regularly. For e.g.: Hi Tushar.
Email signature is important and one can use business sign offs like Regards, Best, Thank You, etc. However, sign off's like Yours Truly, Sincerely, Love etc should be avoided unless it is a personal email.
Email
Etiquette for
Subject Line:
An important aspect of email etiquette is writing an appropriate subject line. The subject line tells the reader what your mail is about and hence helps get reader's attention & response.
If there is a trail of messages, change the subject line to reflect the current status. For e.g.: Revised Brochure version 3/ Weekly Meeting on Wednesday @ 4pm. This helps the reader/s know that there has been some additional information/attachment provided.
It also helps one if they are searching a previous mail in the inbox. A relevant subject line makes it easy to search.
To, Cc, BCC, From:
Use the addresses of the people you want a response from in the To. Use the address of people you want to be in the loop in the Cc field.
Make sure that you have entered correct names and also spelt their names correctly in your address book.
Use your full name in the To field.
Use the Bcc option when sending mails to a large group. E.g.: Announcement mails.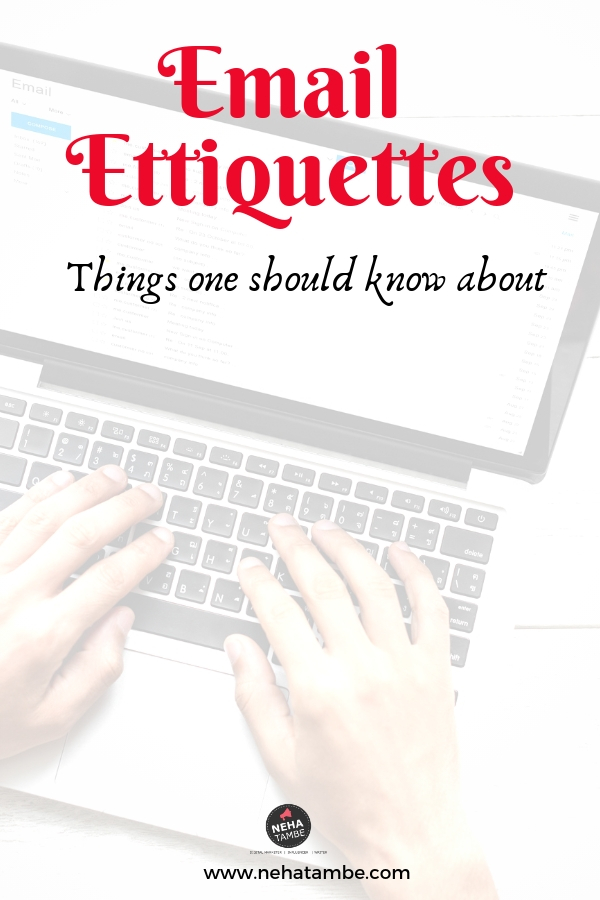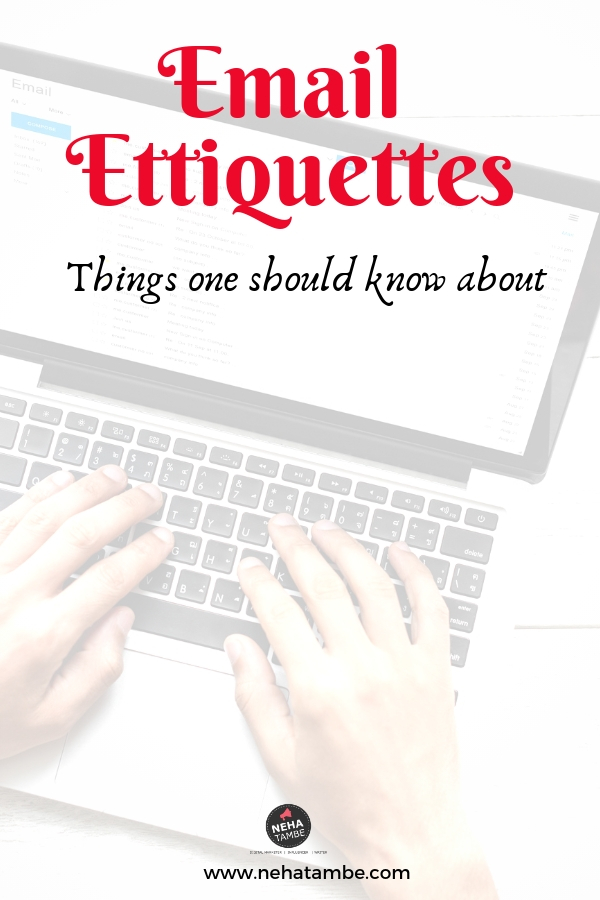 Email
Etiquette for the main
Message:
While writing a business email, always write as if you are communicating on your company letterhead.
Keep your email short and simple. Make sure there are no spelling errors and typos in your email. It is better to have smaller and grammatically correct sentences instead of long complex ones.
Use punctuation correctly and use exclamation marks sparsely as it may seem frivolous.
If you are responding to a trail which no longer is relevant, make sure you remove it before replying.
Reread your email before sending for any errors and to check the tone of your email.
Do not use capital letters unless highlighting something, as it is considered rude.
Always start your email with greeting the person and avoid sending one line messages.
Always inform before sending large attachments as it may clog the receiver's inbox and cause other emails to bounce. You can instead upload your files to various file uploading platforms and send a link to download.
Respond to emails in a timely manner. If you cannot reply, you can just state that you will require some time to get back with an answer.
Do not reply when you are angry or irritated, as it may reflect in your mail and further complicate matters. If you feel what you need to communicate cannot be put down in words alone, call the person and explain.
If you need to send a presentation, call the client and take them through it slide by slide.
Use bullet points to explain any steps or emphasize on some points.
Guest Post by
Bhakti Harchekar. An advertising and marcom professional with 8+ years of experience in client servicing who has turned her love for travel into a new venture ' Saltwater Holidays' 
Ref:
www.businessemailetiquette.com