This is a factual book about a 13 year old girl's journey from Mohali to St. Petersburg for football! A chance visit to the local branch of Bank of Baroda opened an exciting new world for Ananya. Here's my book review about it.
Book Blurb
My Journey from Mohali to St. Petersburg is the reminiscence of young Ananya Kamboj's eight eventful days spent in St. Petersburg Russia for the Football for Friendship program, an international children's social program that aims to promote youth sports and foster tolerance and respect towards other cultures and ethnicities. She believes that the "powerful lessons and insights" in the book that she shared are lessons for all of us.
About the Author
Ananya Kamboj is 13 years old and is studying in class nine. She is from Mohali Punjab and her hobbies include reading, writing and playing football. This is her first book and her ambition in life is to become a sports journalist.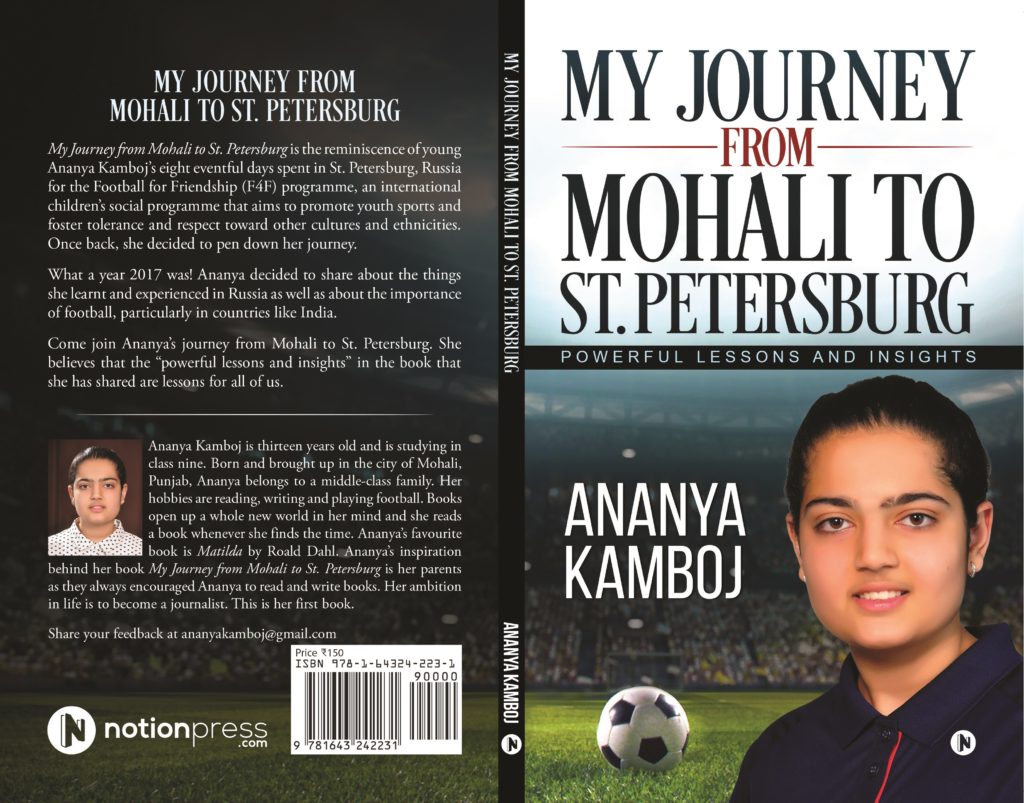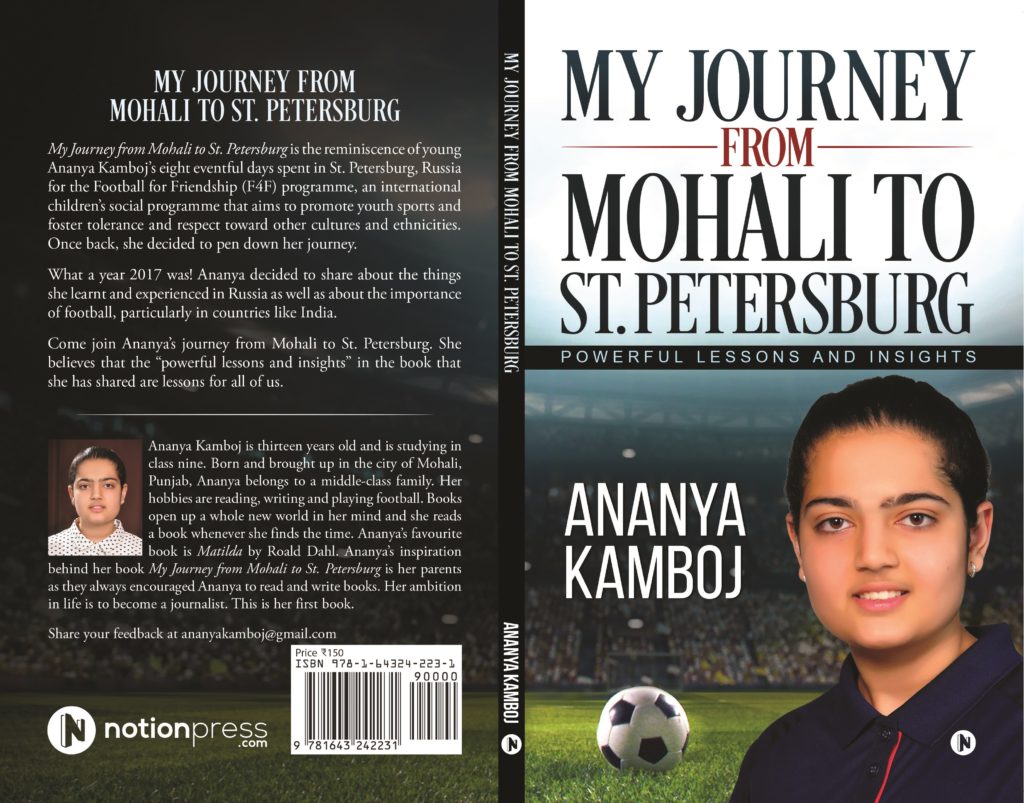 Book Review
What are the odds of a girl from Mohali's middle class family, dreaming about making a mark in the field of sports journalism and being selected at an international federation for Football? That's exactly what Ananya did and succeeded.
This is one of the best real life example stories that I have read in the recent past. It does not talk about taking over the world or breaking shackles and stereotypes but it is a really warm recollection of a life changing experience that changed her perceptions about life and world at large. The experience taught her some important life lessons and strengthened her resolve to be a sports journalist.
The book talks about how Ananya saw a poster about a 'Contest for Young Journalists' encouraging students to report on Gazprom's Football for Friendship Championship in Russia. The contest was organized by Mission XI Million (MXIM) an initiative spearheaded by FIFA and All India Football Association (AIFA), supported by Govt. of India.
Ananya won the contest and went on to be a part of 64 other young journalists from around the world. Noteworthy is that the program is in its 5th year and this was the first time India was being represented at this world platform, that too by a girl!
I am not sexist, but when daily news is filled with crime, hatred and objectification of women this was a welcome change that I am sure will inspire many more young adults to create a constructive future.
She talks about how Football for Friendship opened doors to the world where she made friends with participants from around the world, understood their culture and ethnicity, fostered fairness, equality and peace among other things.
Ananya shares an interesting anecdote where she became friends with a boy from Pakistan. She points that such events and team games help foster Global Relations and even triumphs political tensions. The interesting information, trivia and history of the game that she shares all along in the book is really informative and engaging.
She shares the core valuable lessons that F4F tries to spread and inculcate in its participants, her key takeaway, her first real life experiences. It is interesting to read about her experience of being in a studio as a part of Open Draw ceremony where they were planning, writing, shooting, editing and doing much more while getting a real taste of being a sports journalist.
Doing this book review was a wonderful experience for me too, because as a parent I realized that children just need that tiny push to be able to shine on their own. I would highly recommend this book to teens who wish to make a mark in a different field and aspire for alternate career path. I would also recommend this book to the parents who realize that a child's education is not limited to a classroom. The values and lessons that Ananya shares in the book can be used by one and all, hence do check the book out.