(The original post was written on 8th April 2018, this is an updated version.)
After coming to Pune, with my older child starting school, me being pregnant the second time and then my son being too small, we hardly went to any off-beat places. With my son being small, we couldn't go on too many experiential places and stuck to regular sight-seeing tours or kid-friendly resorts and places.
But this year, with both the children at an age where they could appreciate such outings, we decided to try a location that is really close to Pune – Bhigwan – a bird watching paradise near Pune. The tour was fun and educational, thanks to Agnipankh agri-tourism and their knowledgeable guide.
About Bhigwan and its migratory birds
Bhigwan is a small town or rather village that is on the borders of Solapur and Pune. It is nearly 105km from Pune and is located on the backwaters of Ujani Dam. Come January and this place is a paradise for birdwatchers and wildlife photographers. A lot of migratory birds can be seen here. According to Wiki – there are over 230 species of birds found here.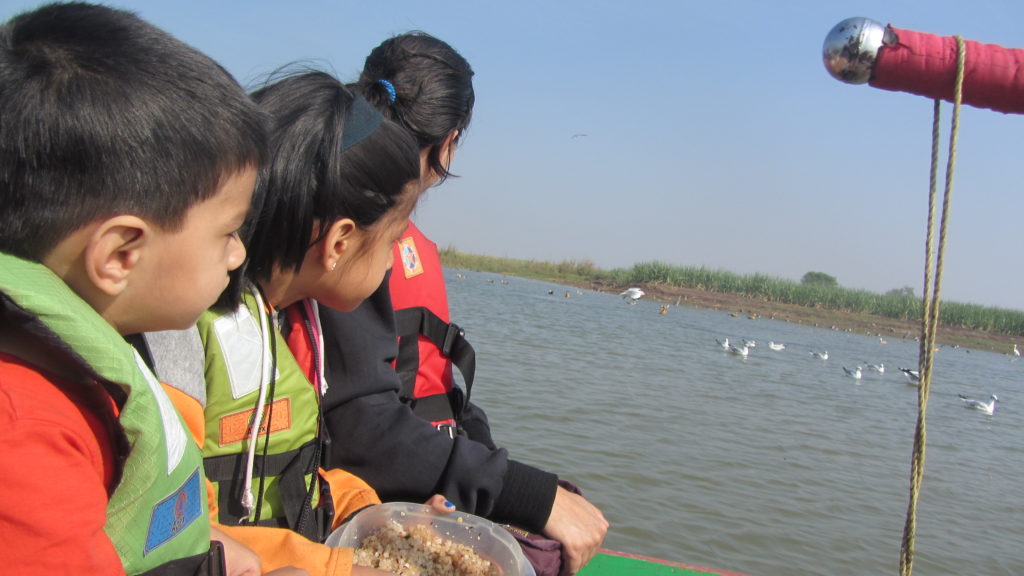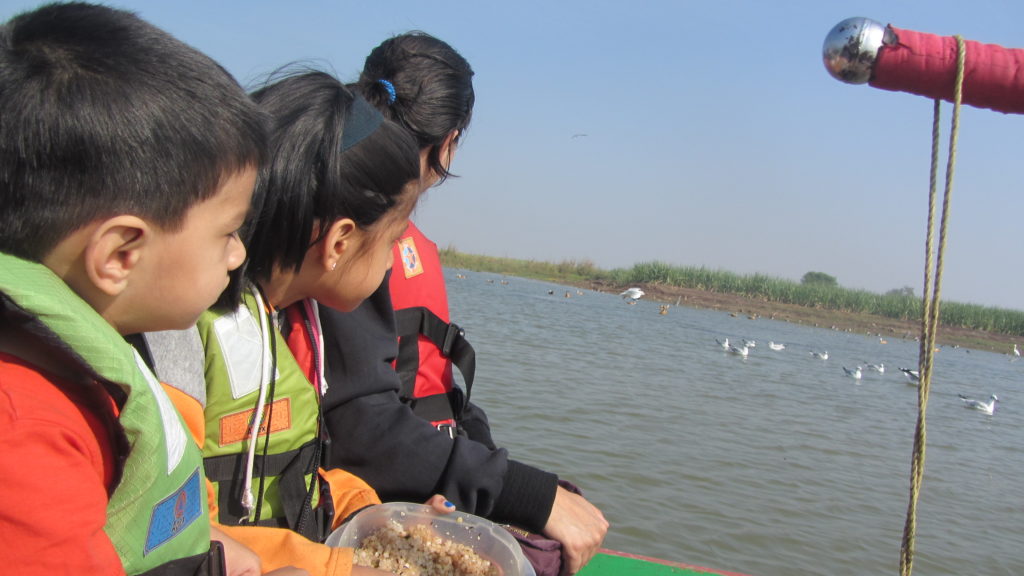 How to get there
Car – If you have your own vehicle, it is approximately 3.5 hours away from Pune. The roads are good so the drive is amazing.
Bus- You can get on buses going towards Solapur and get down at Bhigwan. There are decent amounts of state and private transport buses available.
As the distance isn't too much, we figured this will be a great experience for our kids, without tiring them out. We set out early in the morning with a packed breakfast and some snacks for contingencies. We reached around 8.30am and went straight to the water front at Kumbhargaon.
With the knowledge and information about Bird sighting being popular, a lot of watching points and guides have come up but our research suggested we go with Agnipankh Agrotourism. And that was the best decision that made this trip memorable.
Agnipankh Agrotourism
Agnipankh is a start-up by Sandeep Nagare and his brother in Bhigwan. They have educated and trained local youth as guides in this profession thereby creating jobs and a thriving local eco-system where the village is interested in protecting the birds and their habitat.
To go to Agnipankh, there is a small single road. There are farms on both sides with a some houses in between. A quaint village life pops up as you take a left and reach the doorstep of a non-descript house. The house doubles up as office and has option of breakfast and meals. As this is agri-tourism, don't expect a lot of options. The meals and breakfast are simple, homely and local. You can expect – veg/ chicken or fish thali for lunch and poha/ tea etc. for breakfast.
For day visitors, there are arrangements for toilets and snacks. The main focus of the business is to help you see as many birds as possible, so the ride is not bound by time. The only instructions given by them were be quiet and don't try and feed anything to the birds.
https://www.instagram.com/p/BerwwBthRO-/
The backwater boat ride
The backwaters are calm and when we went a few fishing activities were on-going. The lake was filled with small fishes and we could see them swim alongside our boats.
As we reached the other end of the backwaters we were greeted by a host of birds. The guide name the birds in Marathi, English and gives you basic information like why it has that particular name, where has it come from and the usual spotting season etc. If you are a photographer, they help you get good photographs in terms of sharing information about the best time, holding special rides etc. They even have an overnight night trail plan.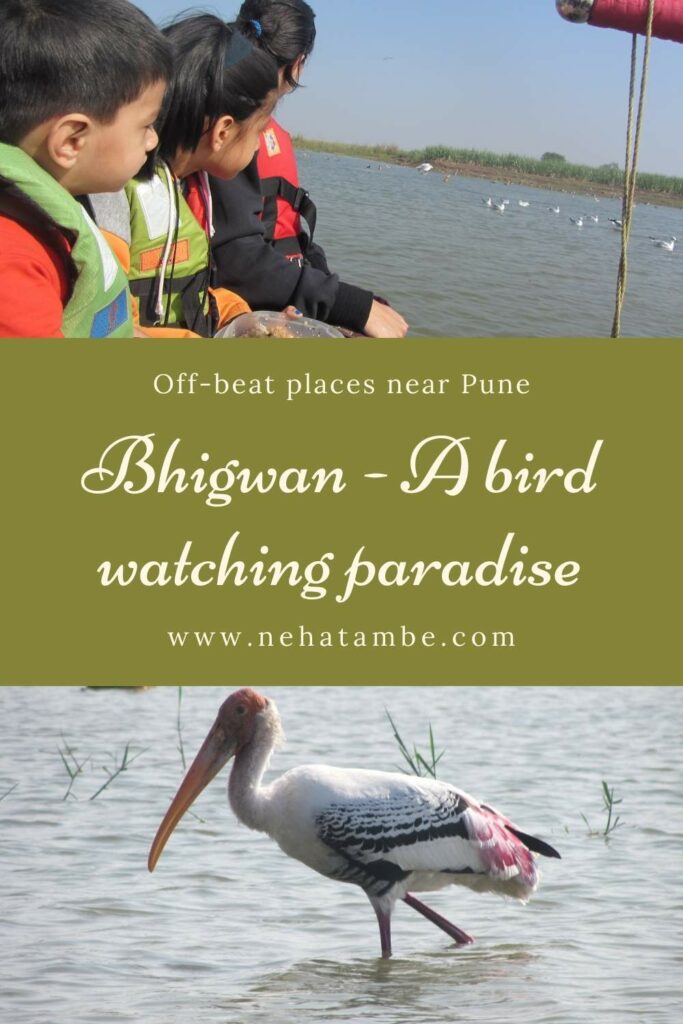 Bird Sighting with Agnipankh in Bhigwan
Frankly, before going there, we only knew about flamingos coming to Bhigwan and we went there looking for them! Bhigwan however turned out to be a hot destination for bird watching in Pune. To our disappointment, there was only one flamingo who had arrived till we went as the season was just starting. But as the guide shared information, we saw and enjoyed spotting so many varieties of birds that the disappointment of seeing a single flamingo vanished in no time.
We saw many birds, namely Painted Storks, Grey Heron, Riverton, sea gulls, Black stilts, Flamingo, Ruddy shellduck, Asian open bill stork, sand piper, pond heron, egret, black-headed ibis, common coot to name a few!
https://www.instagram.com/p/Bdu-V3kBUJO
As we didn't know about the overnight ride or the home stay option, we hadn't come prepared. After our boat ride, the guide showed us some of their videos of night watching and we felt bad that we hadn't come prepared. We will definitely go back for the night-watch! But the current trip also left us mesmerized. My children learnt a whole lot about the many birds. The boat ride itself was fun and seeing village life up close was another bonus! If you are near Pune, you should try Bhigwan for bird watching and the sheer amount of diversity that it nurtures.
You Might also like